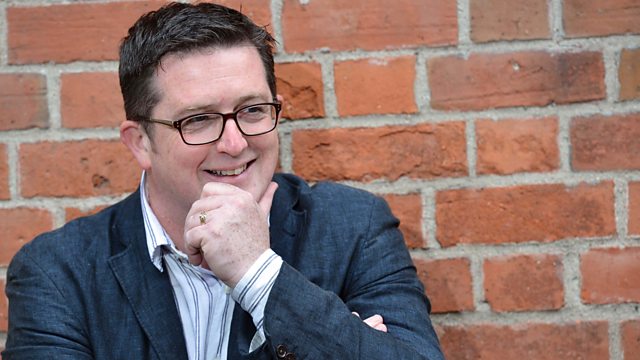 19/04/2014
John Toal looks at health, relationships, hobbies and family along with great music and chat, big interviews, fascinating people and great craic, plus recipes from Paula McIntyre.
Last on
Sicilian Roast Lamb Shoulder and Butternut Squash Stuffed with Mushrooms, Rosemary and Parmesan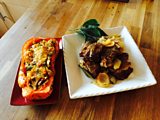 Sicilian roast lamb shoulder and Butternut Squash Stuffed with Mushrooms, Rosemary and Parmesan
Sicilian Roast Lamb Shoulder
1 x boned shoulder of lamb, trimmed and cut into 8 pieces
seasalt
1 tablespoon olive or rapeseed oil
4 medium onions, peeled and quartered
2 teaspoons fennel seeds, crushed ( place them in a plastic bag and whack with a rolling pin)
1 lemon
3 bayleaves
3 sprigs fresh rosemary
4 cloves garlic, unpeeled
1 teaspoon chopped red chilli
1 tablespoon red wine vinegar
1 teaspoon honey
200ml white wine or stock
Heat half the oil in a frying pan until very hot.
Season the lamb pieces with salt and place 4, fat side down in the pan.
Cook until golden brown on all sides and place in a roasting tin. Heat the remaining oil and cook the  lamb in the same way.
Zest the lemon and mix with the fennel seeds. Spoon over the lamb.
Tuck the rosemary,  garlic bayleaves and onions between the lamb and drizzle over the honey.
Add the wine and vinegar. Cut the lemon in half and add to the pan.
Cover with foil and cook in a 180oc for about 2 hours or until fork tender.
Rest the lamb. Squeeze the garlic out of the skin and mix into the juices. Squeeze the lemon. Serve the lamb with the onions and pan juices.
Butternut Squash stuffed with mushrooms, rosemary and parmesan
1 medium butternut squash
150g mushrooms, wiped clean with kitchen paper and sliced
3 tablespoons oil
25g butter
1 stick celery, very finely chopped
2 red onions, finely chopped
2 cloves garlic, minced
75g grated parmesan
4 sprigs rosemary, chopped
Set oven to 180oc.
Cut the squash in half lengthways and scoop out the seeds.
Place on a baking tray and drizzle with a tablespoon of the oil.
Scatter over the rosemary and season well.
Cover with foil and bake until soft – should take about 45 minutes to an hour.
Meanwhile heat a large pan and add the remaining oil.
When very hot add the mushrooms and season with salt.
Dot round the butter and cook for a minute.
Add the onion, garlic and celery and cook on a lower heat for 3 minutes. Set aside.
When the squash is cooked scoop out some of the flesh from the narrow end as well as the gap and mix in to the mushroom mixture. Mix in the cheese, check the seasoning and spoon back into the squash.
Return to the oven for 15 minutes or until golden on top.
Serve while hot.