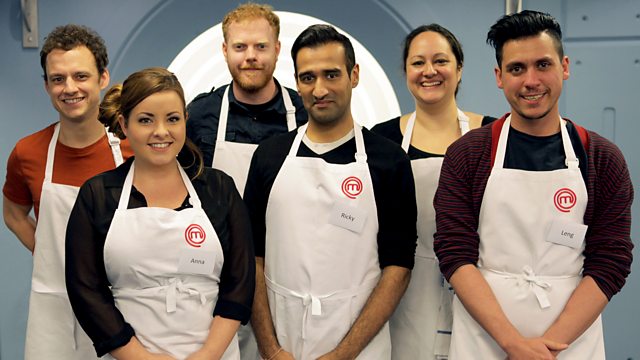 MasterChef is back for its tenth year with the most inspirational series yet. Out of the hundreds that auditioned, sixty amateur cooks are through to battle it out over five weeks of heats, producing some of the most exceptional as well as some of the most disastrous food ever seen on the series.
All of them have just one goal - to lift the coveted MasterChef Champion title.
It's the fourth week of heats and the next six amateur cooks must try to prove to judges John Torode and Gregg Wallace that they have the potential to be the tenth MasterChef Champion.
Firstly, the contestants are asked to cook their Calling Card, a practiced dish that represents who they are as a cook and showcases their talent. They have just one hour to dazzle the judges with one plate of food that shows just what they can do.
After John and Gregg have gauged the skill of cooks in the room it's time for the next challenge - the infamous Invention Test - the test that continues to strike fear into the hearts of even the best cooks. But this year for the first time, the contestants are given the choice of two sealed boxes of ingredients - one sweet and one savoury. Without looking inside the box, they must choose which one they want to cook with. Also, chef John Torode takes on this challenge himself, showing the viewers at home just what is possible with the few ingredients.
In the sweet box the ingredients are: ricotta, black cherries, bananas, Kirsch, cocoa powder, cashew nuts, nutmeg and sponge fingers.
The savoury box contains: tofu, pak choi, asparagus, coconut milk, anchovy fillets, bamboo shoots, sesame seeds, mint, fresh coriander and aubergines.
The contestants then have just one hour to cook a dish good enough to keep them in the competition. The stakes are high because after this test, two of the amateurs must go home.
The four remaining cooks now have one more challenge standing between them and a quarter-final place. Replicating the conditions of service, they have to cook an impressive menu for some very special guests. For the tenth anniversary of MasterChef, some of the competition's most inspiring winners and finalists are returning to judge the food of these new pretenders to the throne.
In this episode the 2009 MasterChef Champion, Mat Follas joins previous finalists Tom Rennolds and Daksha Mistry to give their verdict. There is also the chance to find out what triumphs and challenges these MasterChef alumni have faced since their own MasterChef journey.
After the four contestants have cooked, John and Gregg decide which two will take the next step in the competition and go through to the quarter-final.
In a competition where only the food matters, these amateurs now need to pull out all the stops to survive - taking their first step towards being crowned MasterChef Champion 2014.
Last on
Credits
| Role | Contributor |
| --- | --- |
| Judge | John Torode |
| Judge | Gregg Wallace |
| Judge | Mat Follas |
| Judge | Daksha Mistry |
| Judge | Tom Rennolds |
| Director | David Crerar |
| Series Producer | Katie Attwood |