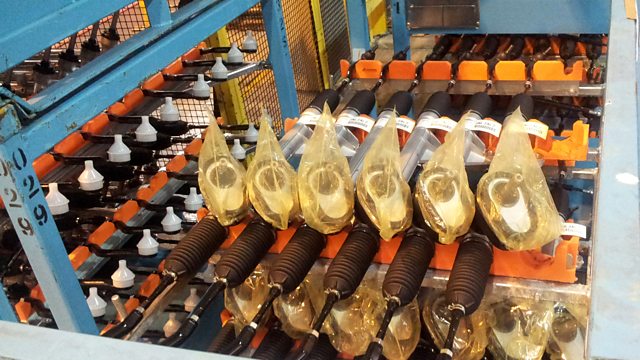 Nissan Car Factory
Listen in pop-out player
Peter Gibbs presents GQT from the Nissan Car Factory in Sunderland. Taking audience questions are Matt Biggs, Bob Flowerdew and Anne Swithinbank.
Bob Flowerdew takes on the ultimate scrapheap challenge, and Matt Biggs gives advice on transporting plants from the garden centre.
Produced by Howard Shannon.
Assistant Producer: Darby Dorras.
A Somethin' Else Production for BBC Radio 4.
Q. What should I plant in my garden to get colour in the Autumn?
A. You could try planting Chrysanthemums, in particular Korean Chrysanthemums. You could also try Dahlias. Asters also bring colour in the autumn months. Aster Andenken An Alma Pötschke is a particularly bright variety, as are the King George Aster, the New England Aster and the Aster Michaelmas Daisy. You could also try planting Nerines, the Clerodendrum Bungei is a good variety.
All these plants will need hardier plants nearby to provide wind protection. Sea Buck Thorn (Hippophae Rhamnoides) would be a good option.
Q. Could the panel suggest vegetables to grow in a shady garden?
A. Most vegetables will have a hard time growing in the shade. It would be better to grow soft fruits such as Raspberries, Blackcurrants, Tae Berries, Strawberries and Bramble Berries which all grow well in dappled shade. You might also try growing Mint, Parsley, Jerusalem Artichokes and Globe Artichokes. To increase the light in the plot, you could paint the walls white to increase light reflection. Raising the bed would also increase light exposure.
Q. Could the panel recommend a perennial Fuchsia that would thrive on a south-facing wall in a pot?
A. The gold-leafed Fuchsia Magellanica would be a good option when put with some Actea (formerly known as Cimicifuga). Lady Boothby and Lady Bacon are also good varieties.
Q.I have been growing Marigolds alongside my tomatoes to keep away the white fly, but have recently read criticisms of this technique. What is the panel's opinion on companion growing to keep away garden pests?
A. French or African Marigolds will keep the whitefly away. Petunias can also trap white fly and green fly to prevent the spread of this pest, as will types of White Tobacco.
Produced by Howard Shannon.
Assistant Producer: Darby Dorras.
A Somethin' Else Production for BBC Radio 4.
Last on
Seven things Prince Charles says you should do in the garden