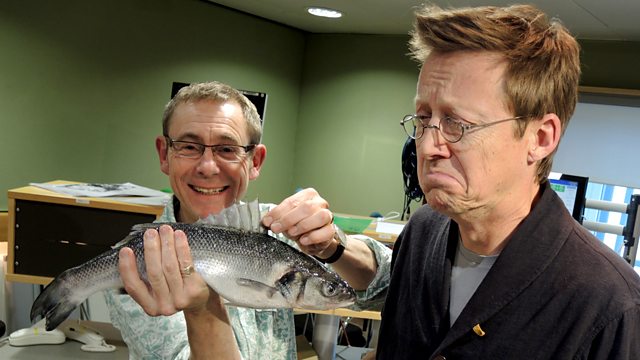 Nigel brings in Seabass Caponata on Foodie Thursday
An original mix of entertainment featuring live music and in-depth interviews.
Last on
The soul legends join Rufus Wainwright and soprano Pumeza Matshikiza in Hyde Park.
Baked Striper (Sea Bass) Caponata
by Jake Tilson from In at the Deep End – Cooking Fish from Venice to Tokyo  (Quadrille)
The sweet & sour of caponata works beautifully with bass.  It can be either served alongside grilled bass or baked with it in foil, as here.  Being Downtown makes me think of Sicily, where caponata originated.  Perhaps I've watched The Godfather too often.  Caponata is also good baked with whole red mullet or gurnards.
Serves 4
Prep time 20 mins
Cooking time 1hr
Ingredients
500g aubergines, cut into small cubes
Olive oil
2 celery sticks, chopped
1 white onion, chopped
400g tinned chopped tomatoes
100g pitted green olives, sliced lengthways
30ml red wine vinegar
3 tbsp chopped capers
1 tsp sugar
2 fillets of striped bass, or sea bass, cut into 4 portions
1 handful chopped flat-leaf parsley
1 tbsp lemon juice
Method
To make the caponata, in a saucepan sauté the aubergine cubes in a little oil on a moderate heat for 20-30 mins, stirring from time to time.  They need to be fully cooked.
Turn out the aubergine into a cold dish & leave to cool, draining on paper towel if it seems to be too oily.
Add a little more oil to the pan & sauté the celery & onion for 5 mins.
Add the tomatoes, salt, pepper & olives, cook a further 15 mins.
Add the red wine vinegar & sugar, cook 10 mins more.
Finally add the aubergines & capers, stir & then remove from the heat. Leave to cool.
The caponata can be refrigerated, overnight if necessary.  When cool, pour over the lemon juice & chopped parsley.
Preheat the oven to 220C / Gas Mark 7.
Season the fish.  On a large piece of oiled aluminium foil, put 2 tbsp of caponata, place the fillet on top & spoon over more caponata.  
Fold the foil to make a small tent, sealing the edges.  Make 4 of these. 
11. Place on a baking tray & cook for 25 mins, or until the fillet has cooked through.  (Nigel would serve them in the bags at the table)
Nigel's Top Tips
After 20 mins in the oven, check one of the tents to see if the fish is almost cooked, as it might be the time to take them all out.
This dish also works really well with whole red or grey mullet or gurnard.