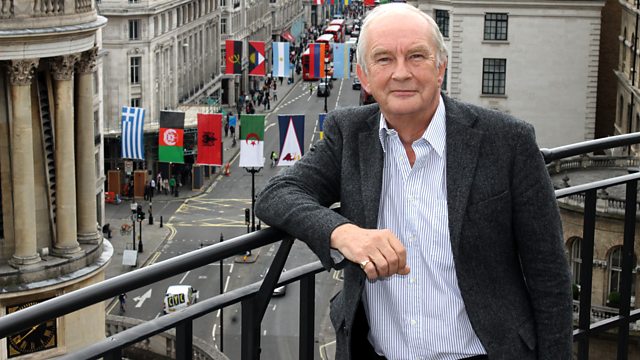 London's Hidden Homes
Listen in pop-out player
Converted shop storerooms, freezing ex-factories, so-called "slum" houseboats and busy car repair garages - rents in London are driving more and more people to live in desperate and sometimes dangerous places. The London Fire Brigade tells Face The Facts of its "grave concerns" over safety in properties that were never meant for human habitation. In the last nine months alone, it's attended over thirty fires in such makeshift homes, and two people have died. John Waite meets some of the residents of London's "shadow" housing market, and asks what's being done to prevent people risking their lives every time they shut their front door.
Producers: Joe Kent and Nick Jackson
Editor: Andrew Smith.
Last on
TRANSCRIPT
THIS TRANSCRIPT WAS TYPED FROM A RECORDING AND NOT COPIED FROM AN ORIGINAL SCRIPT.  BECAUSE OF THE RISK OF MISHEARING AND THE DIFFICULTY IN SOME CASES OF IDENTIFYING INDIVIDUAL SPEAKERS THE BBC CANNOT VOUCH FOR ITS COMPLETE ACCURACY.
FACE THE FACTS
London's Hidden Homes
Presenter: John Waite
Producers: Joe Kent and Nick Jackson
TRANSMISSION: Wednesday 23rd April 2014  1230-1300         BBC RADIO 4
Actuality
Door knocking
I'm from the council, can I come in?
Door knocking
Waite
Council officials in East London take me to a converted storeroom at the back of a newsagents.
It's like a warren isn't it?  They've put in this flight of stairs, there's another flight of stairs going up the other direction.  There's clearly a child here because we've seen the child's clothing hanging on the line.
The converted storage space, reached by two cramped and musty staircases, is now home to at least six people, who all share a tiny, crumbling kitchen. No planning permission was sought when it was expanded to two levels, nor when its use became residential. So, officially it's not a home at all.
Ah the door's open.
Council official
Hello, sorry to bother you.
Resident
Hi.
Council official
Was you in that room?
Resident
Yeah two boys live upstairs and…
Council official
And who lives across the way?
Resident
Yeah that's one lady, she lives with one small child.  We are paying £1,300.
Council official
A month?
Resident
Yeah.
Waite
On today's Face the Facts, how thousands, perhaps now tens of  thousands of people, are living in desperate and sometimes dangerous conditions in makeshift homes just to have an affordable home in London. Renting hidden spaces in the back of cafes, behind shops and in garages; in disused boats - former grain barges - transformed by ramshackle conversions into floating mini hostels with rooms separated by MDF walls. But the big growth area, as we'll hear later, is in converting unused warehouses into living spaces for hundreds of people in each property. Never intended for human habitation, according to the London Fire Brigade many of these unofficial dwellings can be death-traps.
London Fire Brigade spokesperson
Outhouses, garages, sheds, derelict industrial and commercial buildings, bin rooms industrial premises – a very, very wide range of scenarios and the rate of fatalities in these range of buildings is absolutely higher than the norm.
Waite
During the last nine months alone two people have died and there've been 32 fires in "unofficial" or hidden homes all over London.
News archive
They're modern day British slums, made up of so-called sheds with beds, illegal structures, some dangerous and cramped….
Waite
It was news reports in 2012 that first alerted most people to London's unofficial homes. Then it was the discovery of "beds in sheds", outhouses and lean-tos that became a major concern for housing officials. To prevent what were dubbed "suburban shanty towns" springing up, which would, quote, "blight entire neighbourhoods", in a press release the then Housing Minister Grant Schapps promised action.
Press Release
It is simply unacceptable that people are living in squalid, unsafe accommodation. The actions of these rogue landlords are helping fuel illegal working and benefit fraud and creates a shadow housing market that carries dangers to people's health as well as community relations.
The government set up a task force, but the problem continues to spread beyond the nine council areas first identified as most at risk from the "beds in sheds" phenomenon. Only last month Harrow Council in North London announced thermal images taken from the air had identified over 300 suspicious-looking sheds. And as this programme has discovered, a similar alternative housing market has developed not in private back gardens but behind shops in busy public high streets and in abandoned warehouses and factories on crowded industrial estates.
Ward
Well we're going out to have a look at about five properties where we've visited before, that we know there's residential use at the back of these commercial properties.
Waite
Planning enforcement officer for Newham Council, Ryan Ward, is driving to a job with his manager Christine Lyons.
Ward
We've been before and we've told them that this obviously is not on, you need to cease the use and remove all associated kitchens and bedrooms from it.  And obviously we're going today to see if they've actually complied and have done what we've asked and if they haven't then try and catch them red handed.
Lyons
Obviously there is a high number of commercial units that have got land to the rear and land above those units and for us it's an increasing problem because of the lack of housing.
Door knocking
Hi, can you open up for me, is that alright?
Door knocking
Waite
No one was home or at least no one was answering the door at the first address, a converted outhouse behind a dry cleaners. Next we checked another illegal outbuilding the council recently shut down. A flimsy looking two storey extension in the backyard of a row of shops.
Ward
It's the third one in, can you see it there?
Waite
Yeah.
Ward
We found a woman and a small baby, couldn't have been no older than a year.  One room, there was a bed, her bed was next to a fridge, her fridge was next to a sink, there was a small stove and small bathroom in there.  And then it was absolutely atrocious, we put an enforcement notice on it and now they've moved out now.
Waite
Our next stop took us to the backyard of a café where we found the front door of a long, thin converted storeroom. Dark, dank, with mould on the walls, it turned out to be the home of a frail looking old man.
Lyons
Do you live here alone, on your own?
Elderly resident
Yeah alone, yeah.
Lyons
And how much do you pay your landlord?
Elderly resident
I have to pay him £755.  This is a damp house, it's very bad house, I know.  So what can I do, I can't find anything here, I'm old man, I'm 80 years old.
Waite
You're 80?
Elderly resident
Eighty.  I can't find a nice place.
Waite
On the other side of London, in the borough of Brent, which is home to Wembley, Tim Rolt, its planning and enforcement officer, took us to see the latest trend in hidden housing there. People paying sizeable rents to live in working industrial estates - tyre yards, welding shops and car repair garages like this one.
Rolt
When we turned up here we were surprised to find 40 people living above, it was like a rabbit warren.  The conditions were very, very poor and very cramped, very squalid, not enough bathrooms or kitchen facilities, just quite terrible accommodation really.  And the problem is because they're along corridors there aren't any escape routes.
Waite
Further inside the same industrial estate is another car repair shop, though this one is still home to almost 20 people. Downstairs mechanics are busy working beneath cars on ramps, upstairs though we find eight bedrooms, two bathrooms and one kitchen. A Spanish resident agreed to show us his room. One single bed and a bunk bed used by his two young daughters with barely floor space to stand comfortably in between.
Spanish resident
So I'm come here to have another future in London for my daughter too, I'm looking for many, many agencies here but I need to have my deposit.  Two bedroom flat is too expensive.  I live just in this room, okay [indistinct words] what you see, £433 every month with no furniture, only bed.
Rolt
One of the problems we've had in investigating these is that a lot of it's been hidden away, unlike if it was in a predominantly residential area, in industrial areas people are not interested in reporting.  So it's only through proactive work do we actually find out about this accommodation and by the time we find out about it it's sometimes too late for us to take enforcement action.
Waite
Too late because although property owners need planning permission for some building works and to switch from commercial to residential use, the right of planning authorities to enforce the rules diminishes over time. It all helps to aggravate what's long been a uniquely troubled housing market in the capital, according to Natalie Elphicke, who's chairing an independent review for the government into how more affordable homes can be built.
Elphicke
There have been a number of things that have come together over a number of years in London.  For more than a decade there haven't been enough of the homes built in the right places and at the right price.  And what we've also seen is people coming and putting money into London, a safe haven money, from troubled parts of the world and the emergence of the buy to let landlords has resulted in a position where people are not able to save the money for a deposit to buy a home and yet they're finding too much of their wages week after week is going trying to meet rents which have just gone up and up and up in London.
Waite
The escalation is partly driven by London's virtually unique economic power which overshadows the rest of the UK. It's become what's fashionably called an "international" city, an economic entity in its own right. Average pay is higher, family incomes are higher, the number of jobs created over the last few years has been higher.
What's not high enough is the number of new homes that have been built. In the decade to 2011, the period of the last census, when London's population grew by 900,000, the number of new homes only increased by just over 190,000. So the growth of an unofficial housing market can be very attractive to some. Like Isobel, who I met in east London.
Isobel
All the buildings are huge, warehouses.  We had a candy factory, a peanut factory, there was a chocolate factory and yeah and now all of this has closed down.
Waite
And it's all full of young people like you?
Isobel
All full of young people like us.
Waite
Isobel lives in Hackney Wick in the shadow of the Olympic Park. Once an industrial hub for this part of East London, now much of the area's become a "make shift mini-city" of converted industrial units which house, or so they tell me, mostly creative types, who rent the space often on a on a live/work basis. That's to say they can work there, live there or both.
Isobel
It's known to be the biggest creative neighbourhood in Europe and we have space and I think space is luxury nowadays in London.
Come in.
Waite
Wow, what a space.  You've got swing in the middle of the main room.  But it is a warehouse, it feels like a warehouse.
Isobel
Yes, but that's also one part that is nice, you arrive in this empty space and you create it as you wish.  We built everything, we even built more rooms.
Waite
So now look this is a – it's a sort of a wooden structure with a sliding door, somebody's just built a room on to the floor here.  I'm looking up at the ceiling now and are they holes in the roof there?
Isobel
Yes, when it's raining we do have spaces where the water comes down.  There are spaces where we can't leave a computer, we've been asking the landlord for years but I think we're just a bit scared of him being annoyed by that, that we just say hey…
Waite
You don't want to rock the boat?
Isobel
Well we want to stay here, we love it and it doesn't matter that the ceiling is falling apart.
Waite
This is you in here – you've got a double mattress [crash]… whoa…
Isobel
Sorry about that, not stable.
Waite
So you've got a double mattress, a little table, a little chair, all your clothes.
Isobel
Yeah, no walls, no privacy but I love it.
Waite
Is it a bit cold in here, it feels like it could be cold in the winter?
Isobel
We bought a £600 heater because otherwise it's unliveable.
Waite
Doesn't any of this annoy you – I mean you pay rent?
Isobel
Yes it is annoying, it is really, really annoying.  We moved in here for the price but the price does keep climbing up and climbing up.
Waite
New breeze block walls have been erected to divide the old warehouse into around 25 living spaces. Isobel shares hers with 11 others. And via some rough and ready DIY, they have subdivided the 'unit' again into seven rooms and one bathroom.  Twelve tenants pay up to £700 a month each and yet no-one complains. They all feel that for the money they're paying, for the space they have and in the location it is in, they have a reasonable deal. A short walk away in another warehouse and I hear the same rationale from Keir.
Keir
I choose to live in a space like this primarily because I can have more space available for the money that I'm then spending on rent.
Waite
But you have to share this space with 24 strangers.
Keir
For me that is just an extension of what London is, it's a sharing of a space that is a very small place on earth that you're sharing with millions of other people.
Waite
The warehouses that are homes to Isobel and Keir are openly advertised online as live/work spaces. But it can be confusing establishing their legality. We asked the local planning authority, which has changed in recent years, to confirm that planning permission had been granted for residential use.  It was unable to find a planning application. It is possible that people have been living in these warehouses for over a decade, in which case their change of use – from industrial to residential – can be deemed to become lawful. In converting commercial buildings into homes, work needs to be done to ensure that they comply with a number of current building regulations including fire safety, sanitation, and safe electrical installations. But that can be expensive.
Alex (Read)
The building was so badly maintained because it was always that excuse oh yeah not supposed to be living there.  So there was an excuse not to do things to a residential standard.
Waite
After leaving university, Alex needed somewhere to live, but unlike Isobel and Keir, the warehouse Alex chose, he knew didn't have permission for anyone to live there. Alex isn't his real name and his words are spoken by an actor.
Alex (Read)
For example there were a lot of rats in the building and one day these rats just started dying in the walls and in the pipes because of the poison and there was this horrible smell in the bathroom.  Then eventually – oh it's so horrible – there was this kind of trail of blood that came down the wall and it was really, really grim.  We went to the caretaker and he was just like – what do you want me to do about it?
Waite
Well we did investigate the warehouse Alex lived in. The council confirmed that no planning application had been submitted for permission to convert it to residential use. After a complaint that the industrial unit was being lived in, we were told, council officials investigated but could find no evidence to support that claim.
When we went there, however, people told us the warehouse was their home, though no-one would be interviewed saying that. What looked like beds were clearly visible through the windows. For his part, the landlord was adamant that he was letting artists' studios only and if anyone tried to live there he would evict them. We've also established that over the past 12 months the building has breached fire regulations after inspections by the London Fire Brigade. Interestingly the Fire Brigade Enforcement Notice last summer details the warehouse as "other workplace". A few months later in a second document, it is described as "house converted to flat."
And it was concerns about fire safety which prompted "Alex" to leave, after there was a small fire outside the warehouse.
Alex (Read)
We'd gone to go and get one of the fire extinguishers and it was just like – it didn't work, it was really out of date.  So I'd have sleepless nights, I'd worry about – I don't know – just sort of the place being like a fire trap you know.  But I think a lot of people who lived there were just so happy to have a roof over their head for cheap in London they don't necessarily think about that kind of stuff.
Waite
But they should, according to the London Fire Brigade, whose Deputy Commissioner is Rita Dexter.
Dexter
Our principal concern is that people are living in buildings which were never designed to be lived in.  In conventional residential premises there are a whole range of solutions which are intended to offer protection to the occupants but they're not features of these kinds of places.  The data that we've got is definitely an underestimate but in the last nine months we've attended 32 fires in these kinds of premises and two people have died as a result of the fire.  So the ratio of fire deaths is very, very high, we estimate something more like one to 20 as against one to about 300 for typical serious fires.  Fundamentally there are many, many people looking for places to live in in London and it doesn't seem likely to me that will diminish in the short term.
Waite
And the ingenuity for where they are ending up seems to be growing.
Dexter
It's a very worrying thought isn't it?  So ingenuity is a good way of describing it, in our organisation we tend to refer to that as risk.
Waite
We've also established that potentially risky warehouse conversions are springing up in the London Borough of Haringey in North East London. There enforcement officers have reported a rapid increase in instances of unlawful changes of use. Three hundred and twenty two units with up to 20 people living in each unit have been definitely identified, with a further 44 that are under suspicion. If allowed to continue "un-checked", officers say, and I quote:  "…increasing numbers of people will be consigned to poor, insanitary and potentially dangerous living conditions.
Conditions which don't only apply to those living on dry land. Here on the Thames in South West London the banks are lined with craft of every kind – narrow boats, pleasure cruisers, sail boats, skiffs. The Greater London Assembly estimates that there may be as many as 10,000 people now living on the capital's canals and rivers. It can be a romantic life obviously but not perhaps if you live on the boat that I'm here to see.
Forbes
From the outside it just looks like a floating shack, it's like someone's put up a shed and inside it follows the same sort of pattern.  They weren't partitioned cabins, as you might find on a modern boat, they were just sort of makeshift rooms made out of MDF.  As many packed in as can realistically fit on.
Waite
In February last year, 24 year old Sam moved into what he describes as a "slum houseboat." 
Forbes
The major problem wasn't the rent, it was that I couldn't afford the money you need upfront, deposit, agency fees, six weeks rent in advance which sometimes can be like a £1,000, so I had to find somewhere that I could move in straightaway and that's why I ended up on a boat.
Waite
Three months was enough for Sam but as he moved out 24-year old Erin was moving in.
Large
I've been trying for the past two years, since I graduated, to get a job in film and television.  London is the hub, so where else are you going to go after uni?  I scoured the internet and there was an ad for a lovely warm barge, I thought oh wow this is very Huckleberry Finn.  And I thought okay well I don't have any other choice.
Waite
The boat Sam and Erin lived on is actually one of three that were tied together.  They're all operated by the same man.  Between them they can house a total of 32 people in cabins that look like they've been cobbled together from scrap materials. And living conditions, Erin says, were distinctly primitive.
Large
We didn't have electricity during the day, that was something that we were maybe allowed to have for two hours every night.  There was no light in my room.  And the window was facing the bank so it was in constant pitch dark.  Then when it started raining a lot more and the weather got worse the conditions living there got really, really unbearable.  When it came to December you couldn't fall asleep because it was that cold, you could see your breath in your room.
Forbes
My room leaked a little bit during rain through the window.  Some were bone dry and others were – had minor drips and others had cascades.  The base of the hull was very, very dank, the beds and the mattresses sometimes had a fair amount of mould on them.  The whole place was a bit like a building site.  And when I say a building site I mean a building site that's been worked on by some very poorly trained buildings.  Everything had screws sticking out of it and the insulation is falling out of the ceiling and it's generally in a terrible state of disrepair.
Waite
Well I've just been talking to some of those who still live on the boats. They were adamant that I couldn't come aboard and they admit that yes it does look like a slum at times and that it isn't well constructed. But they have been making a major effort to clean it up, they say, and they like this way of living.
Large
Some people take to that life really easily whereas suddenly to be put in that situation it's a shock to the system, one that led to a lot of anxiety and depression, it made some days just really unbearable and I was drinking a lot because I just wanted to be able to go home and fall asleep instantly and not have to realise where I am.
Waite
Erin paid £250 a month for her room; Sam £280 for his. He left, he says, after the three boats each received a warning notice from the Boat Safety Scheme -  a sort of marine MOT operated on behalf of  the Environment Agency - stating that those on board could be in immediate danger; faulty appliances and gas and diesel leaks were among the faults that had been discovered.  The landlord, in a statement to us, maintained that independent experts had pronounced themselves satisfied by both the construction and the safety of the boats. If residents wanted extra heating or electrical power they could buy extra fuel for the stove or the generator. Leaks had been fixed, and insulation improved via things like extra-glazing and new carpet. Indeed, we've discovered that the landlord is currently preparing a fourth, even larger boat to join his housing flotilla.
So what can be done to prevent thousands more people coming to London and ending up living in conditions which are all too often desperate if not downright dangerous? Paying good money to rent what in many instances the Fire Brigade would condemn. We took our findings today to the Mayor of London's office, he's responsible for London's housing strategy and Richard Blakeway is his Director of Housing. Providing more homes is the answer, he told me, including affordable ones.
Blakeway
It's clearly unacceptable that some people have to live in what are appalling conditions.  I think for a long time, for at least 50 years, London has had housing costs which have outstripped the rest of the country.  And fundamentally the reason for that comes down to supply and clearly increasing overall housing supply is the only long term way to address housing costs and also provide quality accommodation at different price points so the commitment is to build 100,000 affordable homes over two mayoral terms.  And since 2008 about 75,000 have so far been completed and we're on course to do the remainder.
Waite
But I've come across young people, they've all got jobs but some don't even have the money to get a deposit together, to get a proper rented agreement.  What are you going to do for them?
Blakeway
We're working with Shelter and other organisations, we're looking at how employers could help with that cost in the same way that they do with travel – season ticket – costs.  One of the things that London's experienced is a very rapid growth in the private rented sector – 68% over the last decade – we want to help it continue to grow because it contributes to overall housing numbers and there's lots of things which you can do to get potentially backed by pension funds and others, purpose built, private rented sector sets a real gold standard in the market.
Waite
And when do you think we can see an end to at the moment what appears to be a growing trend of people living in inhuman and demeaning places?
Blakeway
That won't be the experience for most people…
Waite
But it is for thousands of people, I've met a good few, when that's going to come to an end because that cannot be the mark of a great city?
Blakeway
Where landlords have provided accommodation which is clearly not appropriate then it is important that a message is sent very strongly to them.  In addition to that work has to continue to deliver the homes that London needs both to rent and buy.  It will take many years but nonetheless that's the right approach.
Waite
Richard Blakeway. Housing minister Kris Hopkins says the government has made £6 million available to local authorities to "root out the cowboys", and as a result more than 950 illegal and overcrowded commercial properties have been uncovered so far. As for Erin, the young woman you'll recall who endured the cold and damp of what some called a slum houseboat for nine months, clubbing together with other ex-shipmates, they can now afford a little flat with all mod cons.
Large
When we moved in the first week I was standing in the bathroom and my friend was walking past me and I suddenly realised my feet were warm and we just stood there for a second and looked at each other and just burst into fits of laughter and happiness that we were now in a house that has heating, we've got running hot water whenever we want, I've got a dishwasher, a washing machine.  Living in this house has definitely lifted a massive cloud from over us.