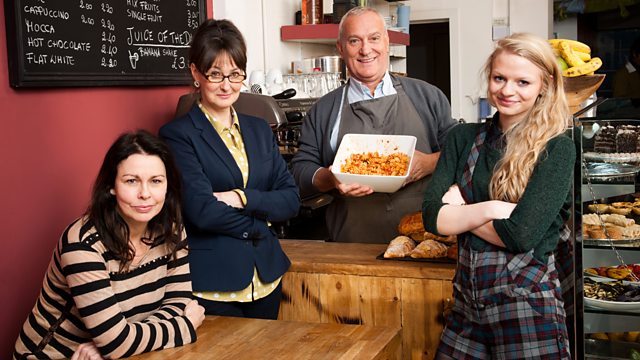 It's Spring in Edinburgh but sisters Trisha and Clare's newly opened cafe isn't blossoming. A business-boosting Polish music evening ends in major heart trauma all round but can an unexpected proposal save the day?
It's Spring in episode 3 of Hilary Lyon's new Edinburgh-based series and everything is blossoming...... apart from sisters Trisha and Clare's new business, unfortunately. 'Cafe Culture' is way too quiet for comfort and it's time to be financially inventive. Temperamental, opera-loving, Polish chef, Krzysztof, (Simon Greenall) suggests that they hold an Eastern European music evening and it's full steam ahead.....apart from the fact that he, mysteriously, keeps nipping off.........
Arty younger sister, Trisha, (Julie Graham) has recently returned to her native city after years of living in London and also loves to nip off out, but not mysteriously......she's just healthily jogging round the Meadows.
However, one morning, she bumps into a friendly American (Guy Paul) making far too many offers for her liking and she finds it hard to be friendly back. Fretting that Clare has plans to bail out and sell the cafe to the highest bidder, Trisha is all set for a barney with her. Indeed, sensible big sister Clare (Hilary Lyon) is harbouring a few secrets on several fronts whilst Lizzie (Pearl Appleby) continues to battle with her shoplifting habit, but comes up trumps, however, when she's unexpectedly left holding the fort on the big night.
There are identity issues and heart traumas of the major variety all round but can an unexpected, yet welcome, proposal save the day..........
Director: Marilyn Imrie
Producers: Moray Hunter and Gordon Kennedy
An Absolute production for BBC Radio 4.
Last on
Credits
| Role | Contributor |
| --- | --- |
| Trish | Julie Graham |
| Clare | Hilary Lyon |
| Krzysztof | Simon Greenall |
| Lizzie | Pearl Appleby |
| Blake | Guy Paul |
| Nurse | Nicola Grier |
| Producer | Marilyn Imrie |
| Writer | Hilary Lyon |
| Producer | Moray Hunter |
| Producer | Gordon Kennedy |