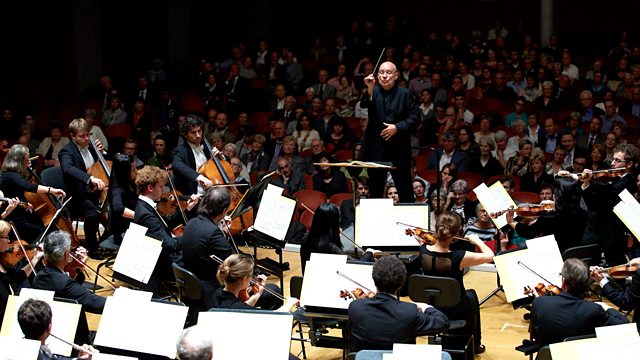 Basel Symphony Orchestra - Part, Glass, Adams (part 2)
Arvo Pärt, Philip Glass and John Adams are three of the twentieth century's most influential composers. Their music is more richly textured, harmonic and accessible than their usual 'Minimalist' label implies. Pärt's "These Words", Glass's Cello Concerto No.2 and Adams's "Harmonielehre" are brought to life with consummate skill and passion by the Basel Symphony Orchestra, one of Europe's leading symphony orchestras, brilliantly conducted by Dennis Russell Davies, an acknowledged champion of modern classical music.
Live from Warwick Arts Centre
Presented by Tom Redmond
Arvo Pärt: These Words
Philip Glass: Cello Concerto No.2
Interval
John Adams: Harmonielehre
Basel Symphony Orchestra
Matt Haimovitz (cello)
Dennis Russell Davies (conductor)
"These Words" is as haunting and ethereal as the timeless Gregorian chants that have inspired much of Pärt's work. Resonant and meditative, Glass's recently premiered Cello Concerto No.2 is a condensation of his score for Godfrey Reggio's critically acclaimed 2002 film "Naqoyqatsi".
Requiring colossal orchestral resources, Adams's "Harmonielehre" is a unique, mesmerising, three-movement work that marries the developmental techniques of Minimalism with the harmonic and expressive world of fin de siècle late Romanticism, to breathtaking effect. "You're standing on the Golden Gate Bridge when a huge supertanker suddenly rears up from the water and shoots into the air like a rocket. Wagner's "Parsifal" plays softly, but just keeps turning into Mahler; and against a starry sky, a medieval mystic chatters away to a Californian baby." Those are the visions that inspired John Adams's "Harmonielehre".
Followed by highlights from the National Youth Choir's concert given at Leeds Town Hall last Saturday.
Last on
More episodes
Next
You are at the last episode