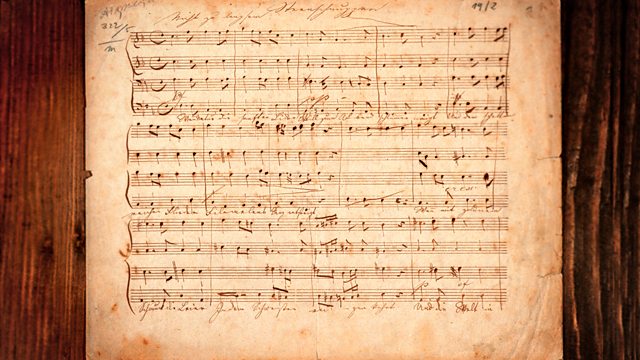 Streetlife
Toby Jones and Mariah Gale read literature about life on the streets by Charles Dickens, James Joyce and Baudelaire, with music by Stravinsky, Prokofiev, Janacek and Bernstein.
Last on
Producer's note
Life on the streets is the theme of this edition of Words & Music, with readers Toby Jones and Mariah Gale. 
T. S. Eliot invites us to explore the city, over Steve Reich's rhythmic evocation of New York, followed by the literal sound of the streets in a recording by Moondog, the homeless 'Viking of Sixth Avenue'. Stravinsky in music and Charles Dickens in words take us to a noisy, stinking market place, where I have set Oliver Twist's famous introduction to pickpocketing. Mirroring this trajectory, what starts as fairly innocent play-fighting in Prokofiev's ballet Romeo and Juliet ends fatally for Tybalt.
Like Prokofiev's Montagues and Capulets, and Bernstein's Jets and Sharks, the young boys in Stephen Crane's New York tale, Maggie, are seasoned fighters, and the streets are their battlefield. It's also the location for political struggle, old and new, as portrayed by Elizabeth Gaskell and Monica Ali; the accompanying Ballet mechanique by Antheil sparked a riot of its own at its premiere in 1926. The sounds of rioting subsides into Janacek's From the Street, which he wrote in memory of a worker who died during a riot in Brno.
Many streets appear to live almost completely parallel lives in daylight and in darkness. Both Baudelaire and Mussorgsky conjure the sounds of an awaking menace, while the creepy but beautiful music of Morton Feldman's Something Wild (dropped as inappropriate for a brutal scene from the film of the same name) forms the backing of James Joyce's description of his Young Man, out looking for pleasures and sins with a lady of the night. Purcell warns heavily against such actions in The Pox and the Plague, and – like Carmina burana – is in favour of drinking heavily instead. However, the combination of drinking and driving leaves Sebastian and his friends in Brideshead Revisited in a spot of bother with the police.
As the streets return to daylight, and the criminal element melts away, Coates calls all workers to their daily commute. For those without work and home, life isn't so cheerful – it's hard for the organ grinder in Schubert's Der Leiermann and the beggar of Matthew Arnold's West London. But the anonymous tramp singing on Gavin Bryars' Jesus Blood still finds solace in religion.
The programme is brought to a close by the sounds of the foghorns of New York, and Fifth Avenue in Fog captures the moment as the city disappears into the mists. I've ended with Vaughan Williams's epilogue to his London Symphony, as he imagines cities – and nations and empires – have long turned to dust.
Clara Nissen (Producer)