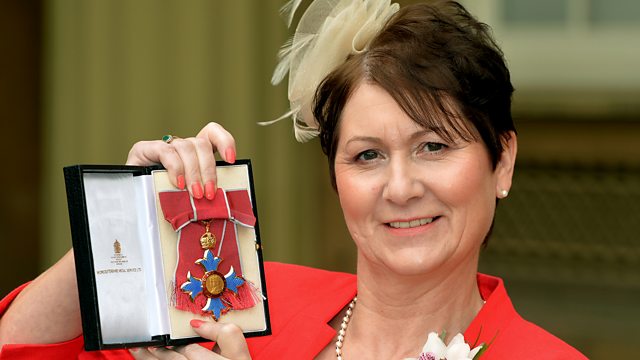 Julie Bailey; Telling children off; Mrs Moneypenny; Dame Freya Stark
Listen in pop-out player
NHS campaigner Julie Bailey talks to Jenni Murray about why she took action and the consequences of having made that decision. New research has suggested that excessive shouting, punishing or ignoring naughty children increases their behavioural problems. Heather McGregor AKA Mrs Moneypenny reveals some of her 'Financial Advice for Independent Women' from her new book, and we hear archive of, explorer and travel writer, Dame Freya Stark.
Last on
Family Justice – Biggest Changes For A Generation
The biggest changes to family justice for a generation will come into force on today. Jo Edwards, Chair of Resolution – which has 6500 family lawyers as members - joins Jenni to explain why these changes are so significant.
Game Changer Julie Bailey
In 2007, after Julie Bailey's mother Bella died at Stafford Hospital, appalled at what her mother went through, Julie went on to expose the failings at the hospital and set up Cure The NHS. Her 'whistleblowing' led to a public inquiry by Robert Francis QC which uncovered cases of neglect and abuse at Stafford Hospital. This eventually resulted in new rules and regulations being introduced into the NHS to ensure higher standards of care. But she faced a torrent of personal and online abuse, and last year was forced to sell her business and move away from Stafford. On Woman's Hour two weeks ago Julie Bailey was chosen as the second of the ten most significant of Woman's Hour Game Changers for her courage and resilience in daring to speak out, and because she has "changed the game for the care of older people".
Telling Off Children
Research from the Centre for Economic Performance at the LSE has suggested that excessive shouting, punishing or ignoring naughty children increases their behavioural problems. But is speaking to children in anger or frustration always counter-productive? What other factors might influence a child's behaviour? And is it either practical or healthy to protect your children from a normal range of emotions when they will encounter them out in the wider world? Jenni talks to Laure de Preux Gallone, Researcher at Imperial College London and the Centre for Economic Performance and to Rowan Pelling, columnist for the Daily Telegraph.
Mrs Moneypenny
How much money do you think you will need in your lifetime, and how do you make sure you get it?  Mrs Moneypenny, aka Heather McGregor, has the answers.  Her new book Mrs Moneypenny's Financial Advice for Independent Women explains why women need more financial knowledge than men, and how to find it. She joins me to explore how women can find new, easy ways to think about their money and take control of their lives.
Dame Freya Stark
Fascinated by the Orient from a young age, Freya Stark decided to learn Arabic and Persian to aid her on her travels. She often travelled in dangerous terrains and was one of the first non-Arabians to travel through the southern Arabian deserts. In 1976, in an interview with June Knox- Mower, now part of our archive collection, she spoke about her experiences of solo travel through the Middle East. And British travel author and biographer, Sara Wheeler, who has written the new preface to Stark's The Southern Gates of Arabia joins Jenni to discuss how Freya Stark influenced female travel writers.
Credits
| Role | Contributor |
| --- | --- |
| Presenter | Jenni Murray |
| Interviewed Guest | Julie Bailey |
| Interviewed Guest | Helen McGregor |
| Producer | Alice Feinstein |