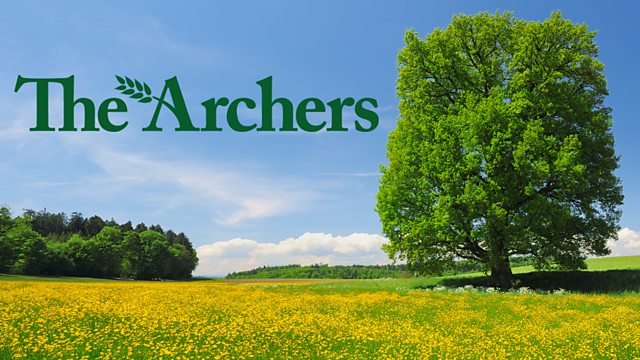 18/04/2014
Chris impresses as Jesus in the passion play. Alice is forced into wedding planner mode as she watches him, dealing with a minor problem regarding Cathridge Hall and reassuring anxious Kirsty.
Jazzer has his eye on Alisha, a nice girl who's a regular at St Stephens and who is helping with costumes for the play. He's keen to put on a good show for her today. With Dan, he gets in to his role as a barbaric soldier. But Jazzer's disappointed to realise that Alisha and Dan are meeting up later. He's left to drown his sorrows.
Dan enjoyed his time with the King's Royal Hussars and wishes he could have stayed on longer.
Shula and Alistair sit Dan down to talk things through. Shula explains that they're worried that Dan is rushing. She offers to give him an assistant manager role at the stables, but scathing Dan has made his plans to start at Sandhurst in just two weeks.
Alice is so proud of Chris and takes a 'selfie' with him which she shows to Peggy. Peggy also enjoys a few photos of Kirsty from her wedding makeover. Peggy's full of compliments. Kirsty becomes overwhelmed at how lucky she feels to be joining the Archer family. Peggy tells her Tom is a very lucky man.
Last on
Credits
| Role | Contributor |
| --- | --- |
| Writer | Simon Frith |
| Director | Kim Greengrass |
| Editor | Sean O'Connor |
| Jill Archer | Patricia Greene |
| David Archer | Timothy Bentinck |
| Ruth Archer | Felicity Finch |
| Kenton Archer | Richard Attlee |
| Jolene Archer | Buffy Davis |
| Tony Archer | David Troughton |
| Pat Archer | Patricia Gallimore |
| Helen Archer | Louiza Patikas |
| Tom Archer | Tom Graham |
| Brian Aldridge | Charles Collingwood |
| Jennifer Aldridge | Angela Piper |
| Christopher Carter | William Sanderson-Thwaite |
| Alice Carter | Hollie Chapman |
| Alan Franks | John Telfer |
| Shula Hebden Lloyd | Judy Bennett |
| Daniel Hebden Lloyd | Will Howard |
| Alistair Lloyd | Michael Lumsden |
| Adam Macy | Andrew Wincott |
| Jazzer McCreary | Ryan Kelly |
| Kirsty Miller | Annabelle Dowler |
| Elizabeth Pargetter | Alison Dowling |
| Fallon Rogers | Joanna Van Kampen |
| Peggy Woolley | June Spencer |
| Harrison Burns | James Cartwright |
| Charlie Thomas | Felix Scott |