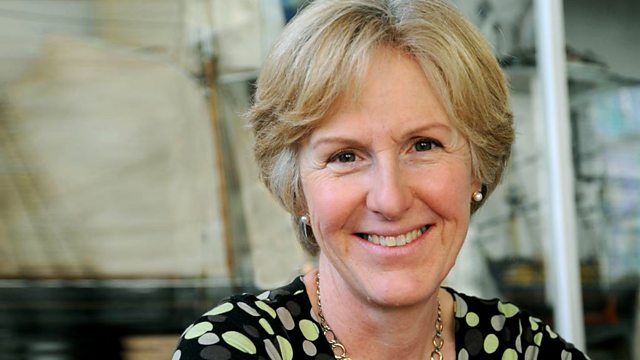 15/04/2014
22-year-old Serbian pianist Sara Vujadinovic performs Brahms, Liszt, Ravel and Prokofiev presented by Catriona Young.
12:31 AM
Brahms, Johannes [1833-1897]
28 Variations on a theme by Paganini Op.35 for piano - Book 1
Sara Vujadinovic (piano)
12:45 AM
Liszt, Franz [1811-1886]
2 Légendes S.175 for piano - no 2
Sara Vujadinovic (piano)
12:53 AM
Ravel, Maurice [1875-1937]
Gaspard de la nuit for piano;
Sara Vujadinovic (piano)
1:18 AM
Prokofiev, Sergei [1891-1953] [appl]
Toccata in D minor Op.11 for piano
Sara Vujadinovic (piano)
1:23 AM
Mokranjac, Stevan [1856-1914]
Kolo Dunavka
Sara Vujadinovic (piano)
1:24 AM
Haydn, Joseph (1732-1809)
Quartet for strings in D major (Op.64 No.5) 'Lark'
Tilev String Quartet
1:43 AM
Esterhazy, Pál (1635-1713)
Harmonia Caelestis (cantatas) selection
Mária Zádori (soprano), Márta Fers (soprano), Katalin Károlyi (alto), Capella Savaria, Savaria Vocal Ensemble, Pál Németh (conductor)
2:07 AM
Respighi, Ottorino (1879-1936)
Trittico Botticelliano (La Primavera; L'Adorazione dei Magi; La Nascita di Venere)
Norwegian Radio Orchestra, Peter Sánta (conductor)
2:31 AM
Marqués y García, Pedro Miguel (1843-1925)
Symphony No.4 in E
Norwegian Radio Orchestra, Ari Rasilainen (conductor)
3:07 AM
Chopin, Fryderyk [1810-1849]
3 pieces for piano
Håvard Gimse (piano)
3:22 AM
Corelli, Arcangelo (1653-1713)
Concerto Grosso in F major (Op.6 No.9)
The King's Consort, Robert King (director)
3:31 AM
Mozart, Wolfgang Amadeus (1756-1791)
Horn Concerto No.2 in E flat (K.417)
James Sommerville (horn), CBC Vancouver Orchestra, Mario Bernardi (conductor)
3:46 AM
Schoeck, Othmar (1886-1957)
Zwei Klavierstücke (Op.29)
Desmond Wright (piano)
3:54 AM
Weill, Kurt (1900-1950)
Excerpts from Kleine Dreigroschenmusik for wind
Winds of the Flemish Radio Orchestra, Jan Latham Koenig (conductor)
4:02 AM
Brahms, Johannes (1833-1897) [text Friedrich Schiller]
Nänie (Op.82)
Oslo Philharmonic Choir and Orchestra, Rafael Frühbeck de Burgos (conductor)
4:15 AM
Strauss, Richard (1864-1949)
Till Eulenspiegels lustige Streiche (Op.28)
BBC Philharmonic, Yan Pascal Tortelier (conductor)
4:31 AM
Spohr, Louis (1784-1859)
Fantasie and variations on a theme of Danzi in B minor (Op.81) (vers. clarinet & string quartet)
Joze Kotar (clarinet), Slovene Philharmonic String Quartet
4:38 AM
Hartmann, Johann Peter Emilius (1805-1900) arr. Gunther, P & Teuber, U
Blomstre som en rosengård (Blooming like a rose garden)
Fionian Chamber Choir, Alice Granum (director)
4:43 AM
Buxtehude, Dietrich (1637-1707)
Prelude and Fugue in G minor
Mario Penzar (organ)
4:52 AM
Reger, Max (1873-1916)
Four Tone Poems after Arnold Böcklin (Op.128)
Philippe Koch (violin), Luxembourg Philharmonic Orchestra, Olaf Henzold (conductor)
5:21 AM
Mozart, Wolfgang Amadeus (1756-1791)
Piano Sonata in B flat major, K.333
Jevgeny Rivkin (piano)
5:39 AM
Debussy, Claude (1862-1918)
Prélude à l'après-midi d'un faune
Andrew Nicholson (Flute) BBC National Orchestra of Wales, Thierry Fischer (conductor)
5:51 AM
Telemann, Georg Philipp [1681-1767]
Suite for strings and continuo (TWV.55:G2) in G major 'La Bizarre'
B'Rock; Jurgen Gross (conductor)
6:09 AM
Tchaikovsky, Pyotr Il'yich (1840-1893)
Romeo and Juliet (fantasy overture, 1880 version)
Radio Symphonieorchester Wien, Pinchas Steinberg (conductor).
Last on