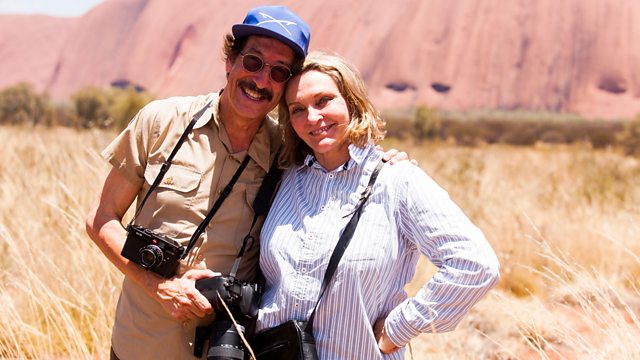 Robyn Davidson; Stay-at-home mothers; Afghan elections; Bechdel Test and Frozen; Rape reporting
Last on
Mothers And Work-Life Balance
Having a paid job makes mothers happier, and looking after children full-time is more stressful than combining motherhood and work, according to a new survey. But are the needs and stresses of stay at home mothers being ignored? Jane speaks to Justine Roberts, Chief Executive of the parenting website Mumsnet, and to Anne Fennell from Mothers At Home Matter.
Robyn Davidson
It was 1975 and Robyn Davidson was 25 years old when she first arrived in Alice Springs, Australia, determined to cross 1700 miles of desert to the Indian Ocean. Two years later she set off alone with only her dog and four camels for company. A new film called Tracks, portraying her journey and starring Mia Wasikowska as Robyn, is released next week. Robyn joins Jane in the Woman's Hour studio to reflect on what made her set out on such a hazardous trek.
Prosecuting Sexual Offences
The MP Nigel Evans was acquitted last week, cleared of all nine counts of sexual offences against him, including one of rape. Some politicians have called for reform to how such cases are handled, but are individual cases the best basis for reforming the system? And in the light of recent non-guilty verdicts in a series of sexual offences trials, how can we reassure victims they should still report their experiences and seek help? Jane talks to Professor Liz Kelly, Co-Chair of the End Violence Against Women Coalition, and Director of the Child and Woman Abuse Studies Unit at London Metropolitan University.
Bechdel Test
The Disney film Frozen recently became the highest-grossing animated film ever. But it's not just successful in box office terms: it also passes the Bechdel Test – a test which asks whether a film features at least two women, and whether they talk to each other, and about something other than men or a man. So is Frozen a feminist film, and should parents bear the Bechdel test in mind when choosing films for children this Easter? Jane is joined by Natalie Haynes and Clover Stroud.
Afghanistan Elections
Afghanistan's presidential election of 5 April 2014 represents the first time in history that power will be transferred from one democratically elected leader to another. Hamid Karzai was not allowed to run again after his two terms as president between 2004 and 2014. The presidential election was a close fought campaign between the eight candidates who eventually ran. Overall turnout was estimated to be seven million, and participation levels amongst women were thought to be much higher than in previous elections. BBC Pashto Producer Saeeda Mahmood has recently returned from Helmand, where she spoke to many young women. She joins Jane to describe their hopes.