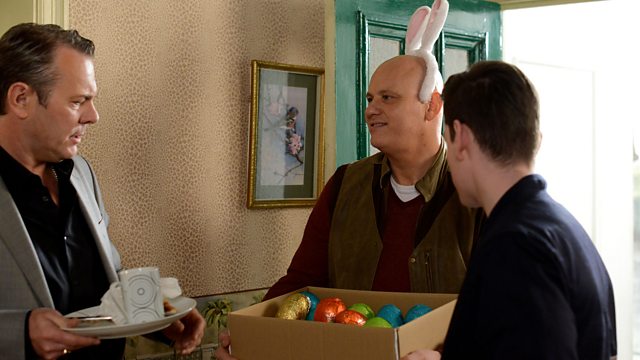 11/04/2014
Haunted by her past, Bianca causes great upset when she jumps to the wrong conclusion. Bianca and Sonia face an extremely difficult day, and Bianca's decision leaves Terry speechless.
Linda is delighted by the latest turn of events, but a suspicious Mick has some questions. When he finally gets the answers he is looking for, Mick is overcome with emotion.
Worried she is losing control of Roxy, Ronnie takes matters into her own hands. Roxy tries to turn the tables on her sister, but is unaware that Ronnie is still pulling the strings. A horrified Ronnie is then traumatised by her actions as terrible memories come flooding back.
Max is thrilled by an unexpected visitor, but Jay is less than happy about the impact it has.
Carol is overwhelmed with guilt, and Lola finds herself in a dangerous situation.
Last on
Credits
| Role | Contributor |
| --- | --- |
| Shirley Carter | Linda Henry |
| Mick Carter | Danny Dyer |
| Linda Carter | Kellie Bright |
| Nancy Carter | Maddy Hill |
| Johnny Carter | Sam Strike |
| Lee Carter | Danny-Boy Hatchard |
| Tina Carter | Luisa Bradshaw-White |
| Stan Carter | Timothy West |
| Aleks Shirovs | Kristian Kiehling |
| Billy Mitchell | Perry Fenwick |
| Lola Pearce | Danielle Harold |
| Peter Beale | Ben Hardy |
| Phil Mitchell | Steve McFadden |
| Ronnie Mitchell | Samantha Womack |
| Roxy Mitchell | Rita Simons |
| Charlie Cotton | Declan Bennett |
| Terry Spraggan | Terry Alderton |
| Bianca Butcher | Patsy Palmer |
| Sonia Fowler | Natalie Cassidy |
| Carol Jackson | Lindsey Coulson |
| David Wicks | Michael French |
| Whitney Dean | Shona McGarty |
| Liam Butcher | James Forde |
| Jay Brown | Jamie Borthwick |
| Abi Branning | Lorna Fitzgerald |
| Lauren Branning | Jacqueline Jossa |
| Max Branning | Jake Wood |
| Lucy Beale | Hetti Bywater |
| Ian Beale | Adam Woodyatt |
| Jake Stone | Jamie Lomas |
| Kat Moon | Jessie Wallace |
| Rebecca Fowler | Jasmine Armfield |
| Amy Mitchell | Abbie Knowles |
| Morgan Butcher | Devon Higgs |
| Tiffany Butcher | Maisie Smith |
| Rosie Spraggan | Jerzey Swingler |
| TJ Spraggan | George Sargeant |
| Oscar Branning | Charlie Hall |
| Oscar Branning | Neo Hall |
| Dr Rose Sutton | Sakuntala Ramanee |
| Dr Julia Bleakley | Olivia Carruthers |
| Executive Producer | Dominic Treadwell-Collins |
| Director | Audrey Cooke |
| Writer | Sharon Marshall |
| Writer | Gillian Richmond |
| Writer | Matt Evans |
| Writer | Jaden Clark |