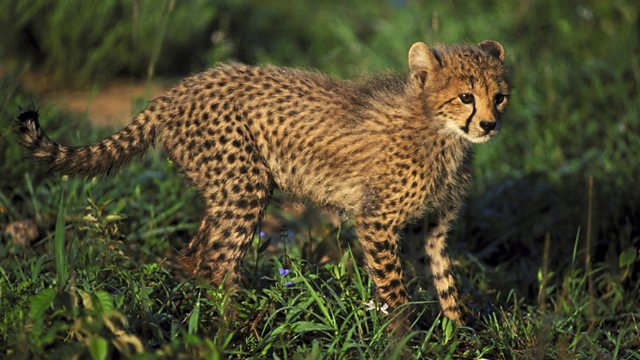 Chiku an Chìota/Chiku the Cheetah
Sreath a tha a' toirt thugainn fiosrachadh a tha inntinneach agus iongantach mu chuid de na h-ainmhidhean as fheàrr leinn. An-diugh, tha sinn a' siubhail gu Tèarmann-nàdair Masai Mara agus a' coinneachadh Chiku nach eil ach 12 seachdain.
'S e an chìota an t-ainmhidh as luaithe air thalamh. Tha seo air sgàth a cumadh: nas coltaiche ri cù-rèisidh na cat, le bodhaig chaol, casan fada is ceann beag. Tha cuinnleanan is broilleach mòr ga cuideachadh a' gabhail a-steach an ogsaidean a dh'fheumas i airson ruith.
Tha a spuirean ga cumail gun slaighdeadh. Tha an cnàmh-droma fada lùbach aice a' ciallachadh gu faod i a ceum a shìneadh gu 7 meatairean. Nuair a rugadh i, cha robh Chiku ach 30 cm a dh'fhaid is nas lugha na 30 gram a chuideam. Chùm am màthair na piseagan air falach air ainmhidhean a dh'fhaodadh an ithe ach chan fhada gus am bi i comasach air ruaig a chur air ainmhidhean eile!
Investigative guides which reveal amazing facts about members of the animal kingdom. In this episode, the focus is on Chiku, a 12-week-old cheetah who lives in the Masai Mara Reserve in Kenya and who has just discovered how to hide using her spots as camouflage.
The cheetah is the fastest animal on earth, capable of running up to 95 kmph. More like a racing dog than a cat, it has a slender body, long legs and a small head. Large nostrils and a big rib cage help it to take deep breaths which power its body with oxygen. It also has claws like running spikes to stop it slipping and a long bendy spine.
When she was born, Chiku was just 30cm long and weighed under 300 grams. Though she is now growing teeth and eats meat, she still suckles milk from her mother. Soon she will learn to repel uninvited diners, but there is one she is not yet ready to handle - the lion!
Last on