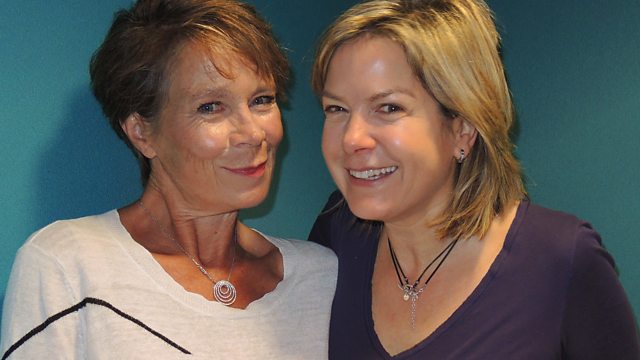 Penny Smith sits in for Claudia and chats to Celia Imrie
Penny Smith is sitting in for Claudia and she's chatting with Celia Imrie about her role in Love Punch, which also stars Emma Thompson and Pierce Brosnan as a couple who rope in their friends to steal a diamond. Will Attenborough and Bill Milner are also in the studio, talking about Another Country, the play loosely based on the life of the spy and double agent Guy Burgess.
Last on
Celia Imrie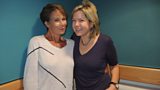 British Actress Celia Imrie, best known for her appearances in Dinnerladies, Acorn Antiques and The Best Exotic Marigold Hotel, joins Penny Smith to talk about her new film Love Punch.
Love Punch is out now rated 12A
Will Attenborough And Bill Milner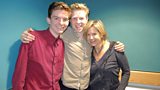 Actors Will Attenborough and Bill Milner talk to Penny about their play Another Country.
Another Country, directed by Jeremy Herrin, follows a company of public schoolboys through a summer term in the early 1930s where Bennett and Judd are both outsiders - one coming to terms with his homosexuality, the other already a committed Marxist. But the Establishment has traditional ways of dealing with rebels and when a scandal rocks the school, the young men must confront their beliefs and make choices which will have a momentous impact on their lives and on the future of their country.
Another Country runs at London's Trafalgar Studios until 21st June.

Xan Brooks with the film review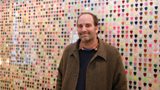 1.Calvary

Director: John Michael McDonagh
Cast: Brenden Gleeson, Chris O'Dowd, Aiden Gillen, Kelly Reilly
Brendan Gleeson stars as Father James, a priest who has a week to put his affairs in order after being told he is marked for murder during a confession.
Calvary is out now, rated 15

2. The Raid 2

Director: Gareth Evans
Cast:Iko Uwais, Yayan Ruhian, Julie Estelle, Donny Alamsyah
After fighting his way through a seemingly impenetrable building filled with gangsters and madmen, rookie Jakarta cop Rama thought his mission was done and he could live a normal life. He couldn't have been more wrong.
His brutal and bloody victory has attracted the attention of the top level underworld kingpins. With his family now in danger, Rama has only one choice to protect them: he must go undercover, infiltrate the criminal organisation that runs the city and work his way to the top until he reaches the corrupt politicians, police and gang bosses who secretly pull the strings.
The Raid 2 is rated 18 and out now.

3.The Lunchbox
Director: Ritesh Batra
Cast: Nimrat Kaur, Irfan Khan

Middle class housewife Ila is trying once again to add some spice to her marriage, this time through her cooking. She desperately hopes that this new recipe will finally arouse some kind of reaction from her neglectful husband. She prepares a special lunchbox to be delivered to him at work, but, unbeknownst to her, it is mistakenly delivered to another office worker, Saajan, a lonely man on the verge of retirement.
The Lunchbox is rated PG and is in cinemas now

DVD / Bluray:
Nebraska.

Director:Alexander Payne
Cast:Bruce Dern, Will Forte, June Squibb, Bob Odenkirk
In Alexander Payne's Nebraska a father and son steer the American road comedy into a vanishing Midwest on the trail of a dubious fortune – and in search of an understanding of each other that once seemed impossible.
Nebraska is out on DVD and Bluray from next Monday, rated 15
Samantha Buckley with the book review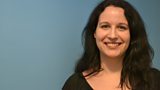 A Love Like Blood by Marcus Sedgwick
A taut, chilling psychological thriller with strong echoes of The Historian and Bram Stoker although this is set very much in the real world. It starts in 1944 with the protagonist, Charles, witnessing a disturbing attack on a young woman. Over the course of the book he becomes obsessed with finding the attacker whom he believes also murdered the woman he loved. Charles transforms over the course of the book from a steady, reliable doctor to an outlaw, capable of perpetrating increasingly violent crimes in order to achieve his goal of revenge.
A Love Like Blood is published by Hodder & Stoughton.
Bodies of Light by Sarah Moss
Set In the mid 1800s this is an extremely evocative recreation of the early days of the feminist movement and the fight for women's suffrage. The main character is Ally, a young girl growing up under the influence of a very strict mother who is more concerned with the plight of poor women than the happiness of her daughter. Ally's determination to fulfil her mother's ambitions for her leads her to become one of the first women to study medicine.
Bodies Of Light is published by Granta
Sashenka by Simon Montefiore
Montefiore's written several histories and biographies covering Russian history and this is his first novel. It starts in 1916 and follows the life of an aristocratic woman, Sashenka, through the upheavals of the Bolshevik revolution and the rise of Stalin and the terror of life under a dictator.
Sashenka is published by Transworld