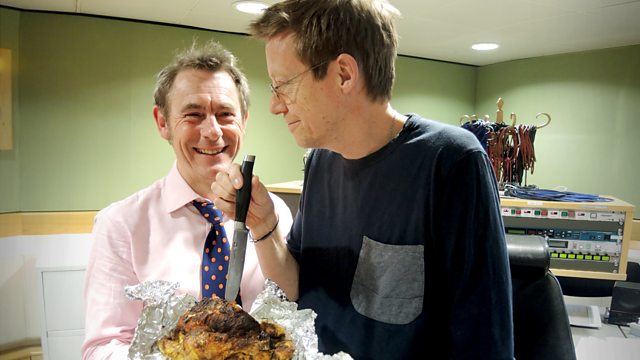 Foodie Thursday
It's a feast for the ears as Simon is joined by residence chef Nigel Barden for another Foodie Thursday - this weeks recipe is One-pot Indian Chicken! Plus there's the top business stories with Rebecca, Matt is on the sport and Sally has the all-important travel updates. And there's a new hilarious confession but will the listeners forgive?
Last on
Indian Pot Roast Chicken
By Henry Dimbleby & Jon Vincent from Leon (Book 2) Naturally Fast Food (Conran Octopus)<?xml:namespace prefix = o ns = "urn:schemas-microsoft-com:office:office" />
Serves 4-6
Prep time 15 mins
Cooking time 1½ - 2 hrs
Ingredients
3 cloves of garlic
4 tbsp natural yoghurt
2 tsp turmeric
2 tsp ground cinnamon
2 tsp ground coriander
1 tsp chilli powder
750g Charlotte potatoes or new potatoes
1 tsp vegetable oil
1 lemon
1 whole chicken, 1.5 – 2kg in weight
a handful of fresh coriander leaves
sea salt & freshly ground black pepper
Method
1.    Preheat oven to 190C/375F/gas mark 5.
2.    Peel & grate the garlic into a bowl, add the yoghurt, spices & chilli & mix well.
3.    Slice the unpeeled potatoes fairly thinly & place in a large casserole dish with the oil.  Halve the lemon & slice one half finely.  Add the lemon slices to the potatoes.  Season with salt & pepper.
4.    Smear the yoghurt mixture all over the chicken & place it on top of the potatoes.  Put the other half of the lemon inside the cavity of the bird.
5.    Cook, covered, in the oven for 1hr, then remove the lid & cook for another 30 mins to 1hr to brown the chicken &, depending on its size, ensure it is cooked through.
6.    Remove the chicken from the casserole & place on a board.  Put the potatoes into a serving dish & sprinkle with the coriander leaves.
Tips
·      If you don't have the spices you could use a curry paste or powder in their place.
·      Also good is to replace the spices with a tbsp of lime pickle blended finely with the yoghurt.
·      To allow the yoghurt & spice mixture to permeate the chicken more, pull skin away from the breast gently & spread some of the yoghurt underneath the skin.
·      Serve with a salad or simple green vegetables.
Today's Most Popular Tracks
Most added tracks from this show