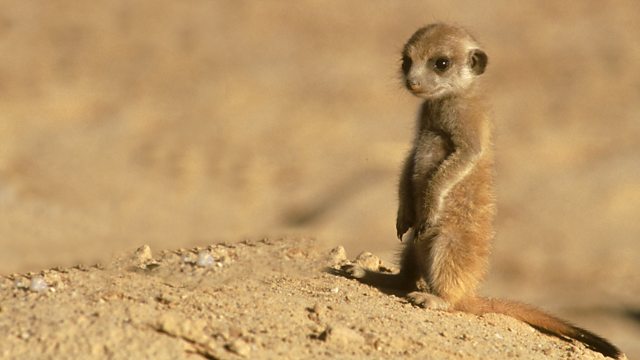 Morris am Meer-cat/Morris the Meerkat
Sreath a tha a' toirt thugainn fiosrachadh a tha inntinneach agus iongantach mu chuid de na h-ainmhidhean as fheàrr leinn uile. An-diugh tha sinn a' coinneachadh Morris, meer-cat a tha a' fuireach ann am Fàsach Kalahari còmhla ri mhàthair, athair agus an còrr den bhuidheann.
'S e a mhàthair ceannard na buidhne agus 's i an aon bhoireannach aig am faod piseagan a bhith. 'S e dad am prìomh fhireannach, 3 bliadhna dh'aois agus aig a làn neart. Chan eil meer-cait uile air am breith co-ionnan.
Ma bhuineas fear do bhuidheann eile tha prìs ri phàigheadh: a' coimhead às dèidh clann chrosta agus a' cumail faire. Tha seo deatamach. Cha lorg meer-cait biadh gu leòr mur a cùm iad an sròinean sa ghainmhich, ach tha seo a' ciallachadh nach urrainn dhaibh uile sùil a chumail airson cunnart. Ach tha siostam faire èifeachdach aca le aon bhall a' cumail faire fad na h-ùine.
Investigative guides which reveal amazing facts about members of the animal kingdom. In this episode the focus is on Morris, a meerkat who lives in the Kalahari Desert with his mum, dad and the rest of the meerkat gang.
Mama is the leader and the only female who is allowed to breed. Dad is the top male, three years old and in his prime. The most important rule in meerkat life is 'All for one, and one for all!' However, not all meerkats are born equal. If one comes from another gang, there is a price to pay: babysitting naughty youngsters and working as a sentry.
Only by spending time with their noses in the sand can meerkats find enough buried food, but this means they are vulnerable to attack from the air. Meerkats have solved this problem with an effective surveillance system requiring someone to be on sentry duty at all times, watching for danger.
Last on