At the Races; New charity chief execs
Two national blindness charities have recently appointed new chief executives.
Action for Blind People has appointed Miriam Martin who stepped up from within the organisation - Miriam has worked in various roles within Action for about twenty years.
Tony Rucinski will take up his new post for the Macular Society in May - and has also held various posts within the visual impairment sector including as trustee of the RNIB Group Board - which he will be giving up in May.
In Touch invited them both on to the programme to discuss what they think the charities are doing well and perhaps not doing so well; their views on why the high employment rate among visually impaired people has changed very little in almost 20 years; and other items of interest to the sector.
In the week after the Grand National was won by a horse owned by a GP, In Touch went to Royal Windsor racecourse to talk to Alan Pickering, a visually impaired owner of seven racehorses. Alan also has had a long and successful career in insurance and pensions and tells us that enlightened employers were integral in sustaining his career despite his deteriorating vision. He is hoping that his horse Robin Hood's Bay, which recently won the Winter Derby, will go on to complete the same feat at the Winter Championship at Lingfield Park on Friday the 18th of April, Good Friday.
Last on
Trainer Alan Pickering, producer Lee Kumutat and jockey Liam Keniry.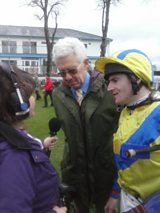 Trainer Alan Pickering, jockey Liam Keniry, presenter Peter White and producer Lee Kumutat.
Alan Pickering's horse, Whitby Jet.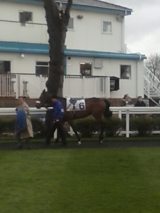 Trainer Alan Pickering, and presenter Peter White.