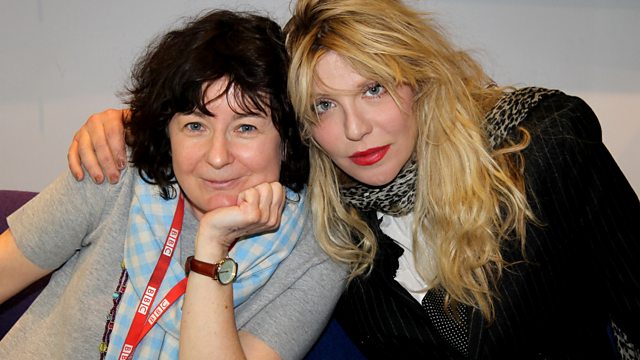 Courtney Love; Michelle Collins; Political Game Changers
Listen in pop-out player
Courtney Love is known for the music she made with her band Hole and for her solo career as a musician and actress. And she's also known as the widow of Nirvana's Kurt Cobain. It's 20 years now since his suicide and Courtney discusses her life, music and career, and the role she'll play when Nirvana are inducted into the rock and roll hall of fame.
Actress Michelle Collins on her wide and varied career and the 'Rover's fear' phenomenon.
Was Margaret Thatcher a political game changer? Conservative MP Sarah Wollaston and Labour activist and commentator Emma Burnell consider who are the female game changers in British politics today?
It's not uncommon for one feminist to tell another to 'check her privilege' - a reminder that some women face other forms of discrimination including racism. Professor Kimberlé Crenshaw, the American academic who coined the term 'intersectionality' in 1989 to describe discrimination faced by Black women, explains why it's still relevant today.
Also a genuine pioneer, the American electronic composer and accordionist Pauline Oliveros.
Does society undervalue female friendship? Writer Dawn O'Porter and Baroness Shirley Williams explore the important role friendship plays in a woman's life.
And how often do you phone home and speak to your mum?
Presenter: Jane Garvey
Editor: Anne Peacock
Producer: Rabeka Nurmahomed.
Last on
Courtney Love
Courtney Love is back with a new single and will be touring Britain next month. Since her band, Hole first came to fame in the early 1990's, Courtney Love has been a controversial and striking figure. She's known, of course, as the widow of Nirvana's Kurt Cobain. But as she approaches 50, has the former wild child grown up? She talks to Jane about her life, her music and what's next. 
Courtney Love's UK tour opens on May 11th at the Shepherds Bush Empire and continues to May 20th. This will be her first British tour since 2010. 
Testament of Friendship
When Shirley Williams's mother Vera Britten wrote Testament of Friendship about her close relationship with the author Winifred Holtby, she felt that female friendship had been "mocked, belittled and falsely interpreted." So, seventy-five years on, what value does society place on female friendship?  And how is this demonstrated through popular culture? Writer Dawn O'Porter writes books on friendship for young adults and joins Shirley and Jenni to discuss Britten describes as a "noble relationship which, far from impoverishing, actually enhances the love of a girl for her lover, of a wife for her husband, of a mother for her children."
Michelle Collins
Michelle joins Jane to talk about starring in two of the UK's most famous soaps and growing up  in working-class London with her young single mother in the 60s and 70s. Michelle's path towards acting success has included being a punk and starting out as a backing singer.  As a single mother, Michelle says she's been accused of being a man eater and having a bad northern accent, but despite such criticism, she explains how she carved out a successful career in such a competitive industry and how she and her 18 year old daughter are committed feminists. 
Was Britain's only female PM, Margaret Thatcher a political Game Changer?
As Britain's only female Prime Minister, Baroness Thatcher who died nearly a year ago, achieved a record that looks unlikely to be beaten in the near future. But was she a political game changer? Conservative MP Sarah Wollaston and Labour activist and commentator Emma Burnell join Jane Garvey to talk about how far Margaret Thatcher altered the political landscape. With the reveal of 
Woman's Hour's Power List 2014
 just a week away, they'll also discuss who's doing what to game change politics today, not just to get more women elected but who's helping foster a political culture that people really want to engage with.
Why Feminism can't ignore race?
Professor Kimberle Crenshaw is the woman who explained why feminism can't ignore race. In 1989 she coined the term intersectionality to explain how a woman can experience discrimination because of her race as well as her gender. Many like the way it makes feminism acknowledge the pressing experiences of those outside the white middle class, while others criticise the approach for dividing women. Jenni talks to Kimberle Crenshaw about intersectionality and the how Black women are facing multiple inequalities in the US today.  
Pauline Oliveros
 Pauline Oliveros is an American improvisor, accordionist and composer who is considered a pioneer of electronic classical music in 20th century America. At 81 years old, her career spans some fifty years of boundary breaking music-making, and she has been the recipient of numerous awards. This evening she will perform a real-time improvised performance linking musicians in Stanford (California), Troy (New York) and Montreal. This will be the first performance of this kind in the UK at the Birmingham Conservatoire.
The performance forms part of Frontiers: Extraordinary Music from Downtown New York & Birmingham, a major festival of music presented by Birmingham Conservatoire and Third Ear.
Phoning Home
Research carried out by telecommunications operator TalkTalk, recently claimed the most common time to call home is Monday evening at 7pm and the average natter lasts twenty two minutes. It's bound to vary hugely between individual families and  with the rise of social media, the phone is now just one way  to maintain contact. Is phoning home still the institution  it once was?  Actress, Maureen Lipman, who played   'Beattie' in the British Telecom TV ads, and Sathnam Sanghera, author of 'Marriage Material join Jenni to discuss.
Credits
| Role | Contributor |
| --- | --- |
| Presenter | Jane Garvey |
| Interviewed Guest | Courtney Love |
| Interviewed Guest | Michelle Collins |
| Interviewed Guest | Sarah Wollaston |
| Interviewed Guest | Emma Burnell |
| Interviewed Guest | Kimberle Crenshaw |
| Interviewed Guest | Pauline Oliveros |
| Interviewed Guest | Dawn O'Porter |
| Interviewed Guest | Shirley Williams |
| Editor | Anne Peacock |
| Producer | Rabeka Nurmahomed |