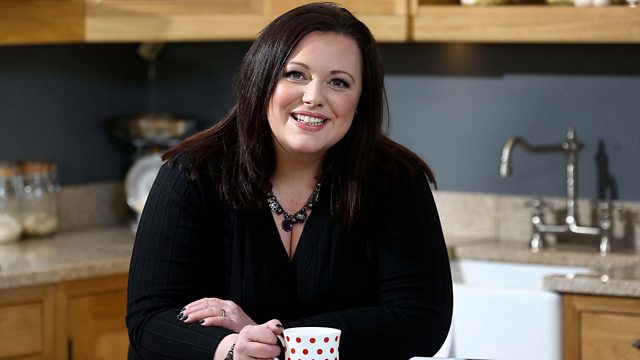 02/04/2014
Join Kerry for a show packed with classic tracks, current hits and features on films, books and food.
Last on
Chris Fearon's Braised Lamb Shoulder With Chargrilled Spring Vegetables And Pesto Potatoes
Serves 4
Ingredients
1x 500g boneless lamb shoulder
2 large onions
5 cloves of garlic
2 large carrots
2 sticks of celery
1 bunch of asparagus
1 bulb of fennel
1 bunch of tender stem broccoli
4 large waxy potatoes
1 small jar of basil pesto
1 small tin of chopped tomatoes
1 ltr of lamb stock
1 sprig of rosemary
1 bunch of tarragon
1 bunch of mint
1 bunch of parsley
Method
First thing to do is cut the lamb into 8 chunks then brown in a large pot with a little oil, when browned remove meat from the pot and set aside. Keep the pot on the heat until later.
Chop your onions, carrots, celery into small dice and crush the garlic, place all this back into the pot and cook slowly in the left over lamb oil until soft, but no colour. Pour over the stock and tomatoes and add the lamb and rosemary back into the pot. Cover with a lid or foil and place into a preheated oven for 2 hours at 160 degrees.
Now onto the pesto potatoes. Peel the spuds and chop into equal size chunks, cover with water and add some salt. When the lamb has about 40 minutes left to go put the spuds on to cook. When cooked strain of the water and add 50ml of olive oil and a good 5 to 6 spoons of pesto to the spuds, then bash them up with a big spoon until they become crushed.
Lastly the veggies. Slice the fennel into 4 equal slices and toss in a bowl with the broccoli and asparagus with a little olive. Heat a chargill pan until very hot then add the veggies just enough to cover the pans surface and cook for about 2 minutes, season and set aside then continue again if necessary.
Finish the dish by taking the lamb out and chopping the fresh herbs to cover the lamb then serving a spoonful of pesto potatoes in a bowl then the chargilled veggies. This is a great dish and is good with a few chilled bottles of white wine to wash down!
Here's Chris' meal on a plate!