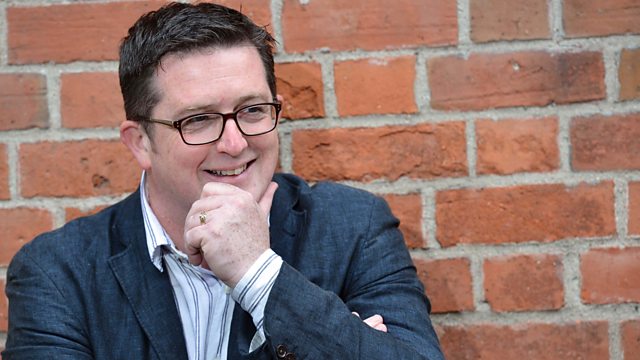 29/03/2014
Join John Toal, Paula McIntyre, Baako the baby gorilla and Tina the elephant live from Belfast Zoo, celebrating the institution's 80th birthday.
Last on
Tropical Fruit Cake with Coconut Icing and Teriyaki Beef with Crispy Noodle Cake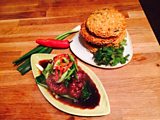 Tropical Fruit Cake with Coconut Icing and Tropical Fruit Cake with Coconut  Icing
200ml rapeseed oil or vegetable oil
3 eggs
2 bananas, peeled and mashed
75g tinned pineapple, chopped finely
75g tinned peaches, chopped finely
100g chopped mixed nuts
25g chopped dried apricots
250g plain flour
250g castor sugar
1 teaspoon baking soda
Grease and line 3 x 8 inch round cake tins with parchment paper and set the oven to 180oc.
Whisk the eggs and the oil together.
Sift the flour and baking soda into a bowl and whisk in the sugar.
Mix in the nuts.
Make a well in the centre and add the egg mixture and the chopped fresh fruit and dried apricots.
Mix well.
Pour equally into the tins and bake for about half an hour or until an inserted skewer comes out clean.
Cool and turn out.
Coconut Icing
300g cream cheese
75g soft butter
600g icing sugar
50g desiccated coconut
Beat the cream cheese and butter until thick. Soft the icing sugar and stir until incorporated. Add the coconut.
Spread cream cheese on each layer and stack up. Smooth icing over the cake and round the sides.
You could sprinkle coconut up the sides of the cake on the icing.
Teriyaki Beef with Crispy Noodle Cake and Pak Choy
Teriyaki Beef
500g chump steak cut into 4 pieces
75ml soy sauce
50g sugar
50ml rice wine vinegar
50ml white wine
25g grated ginger
1 tablespoon sesame seeds
Place the soy, vinegar, sugar, wine, ginger and sesame seeds in a pan and boil until reduced by half.
Rub the steak with oil lightly and place in a smoking hot pan.
Seal off until cooked how you like and then add the teriyaki sauce.
Cook until the sauce turns sticky and coats the beef.
Crispy Noodle Cake
200g medium egg noodles, boiled, cooled and tossed in sesame oil
2 eggs
2 chopped scallions
2 tablespoons soy sauce
1 teaspoon chopped red chilli
oil for cooking
Whisk the eggs with the soy and then mix in the noodles, chilli and scallions.
Heat some oil in a large frying pan and add the noodle mixture.
Cook for 3 minutes then carefully flip over, add a little more oil and cook for 2 minutes on the other side.
Turn out and slice into wedges.
Pak Choy
Break up 2 heads of pak choy, boil in salted water for 1 minute, drain and serve.