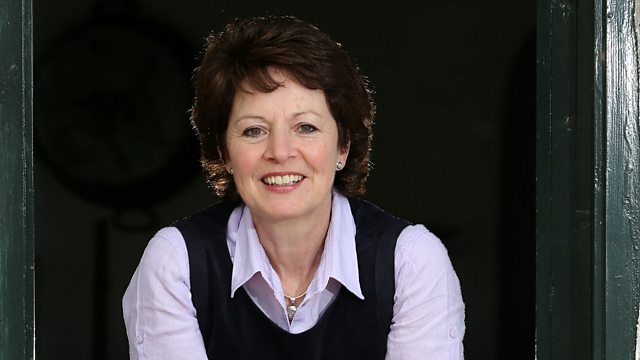 29/03/2014
Cherrie McIlwaine presents the weekly programme for keen gardeners with the latest advice, news and visits to gardens large and small around the province.
Last on
Cherrie's Garden Notes
Next Saturday will be a much anticipated red-letter day for the members of the Alpine Garden Society when their 75th annual show takes place at Greenmount College in Antrim.
Seventy five years championing tiny, tough, remarkable plants which thrive in mountainous regions all over the world where by rights they shouldn't and where, in defiance of poor thin soil and extreme elements, they produce impossibly beautiful flowers.
They are lovely living proof that when the going gets tough, the tough get going and what blows me away every time is how wonderfully intricate and detailed they are. Tiny jewels in arid landscapes with delicate flowers and tight tufts of leaves, which don't have to be gorgeous but are.
The skill of local growers is in re-creating plant-perfect conditions so that come competition time show benches will look stunning.
I went to visit Harold McBride during the week and there isn't much that Harold doesn't know about growing alpines.
The raised beds, troughs, tubs and pots in his garden say it all. The glasshouse and the cold-frames too are packed with plants and seedlings and with show time approaching fast, it's  a case of inspection every day to see if the chosen plants will be competition ready.
Even the names are intriguing ... Primula Aureata with a soft powdery farina on the leaves making them look as though they have been lightly coated with fine flour, a mini garden in a trough sparkling with zesty yellow Drabas and star-shaped little Saxifrages, Pulsatilla  Budapest with soft blue bell-shaped flowers and feathery foliage and a diminutive Fritillaria Aurea which looked as if someone had stippled it's bright yellow flowers with tiny specs of cinnamon coloured ink.
Alongside the alpines Harold also grows many of the woodland plants which follow the snowdrops and crocuses and whose subtle colours and forms light up the garden at this time of the year.
The Erythroniums or Dog's Tooth Violets, the Fritillarias, the Wood Anenomes, the Hellebores and the Corydalis all create a wonderful woodland tapestry in his garden and  among them large clumps of "gone to seed" snowdrops, waiting for Harold to propagate or divide them and replant elsewhere in the garden.
It's a case of treading carefully in the garden at this time of the year to avoid standing on those just emerging little nubs of shoots poking their noses skyward.
After our visit to Harold's, and thanks to Gwen for the coffee and scones (with jam and cream, what's more!) we made our way to Rowallane to talk to Averil Milligan about some of the essential seasonal jobs keeping the garden team busy there.
Rachel, one of the trainee gardeners, has been given the task of re-planting one of the big herbaceous borders in the walled garden. The bed looked fresh and ready with a generous blanket of mulch already applied and we began our chat about this precious resource in Rowallane's dedicated area for compost making.
At the moment a large mountain of mulch is quietly cooking away and it will sit there decaying gently for another six months, until it is darker and more crumbly and ready to play it's part in the cycle of life. Alongside it, a shaggy heap of golden brown leaf mould is bio-degrading too until it is ready to be used as a soil conditioner or a mulch. And all of it free and fabulous.
As well as the critical benefits of mulching we talked too about staking those  newly emerging shoots. At Rowallane they are lucky to have lots of twiggy prunings to make little wigwams with small canopies of fine branches which   act almost as invisible supports.
In the walled garden this works really well for plants like the peonies whose sturdy little rhubarb red fists are about to unfurl.
They may look robust but stand on one by mistake and they snap off in a second and if you are anything like me you will feel like a bad person for the rest of the day.
The willowy supports are great reminders that the shoots are above the ground and they provide a valuable framework to support those luxurious flowerheads when they arrive later on in the spring.
And I for one, can't wait.