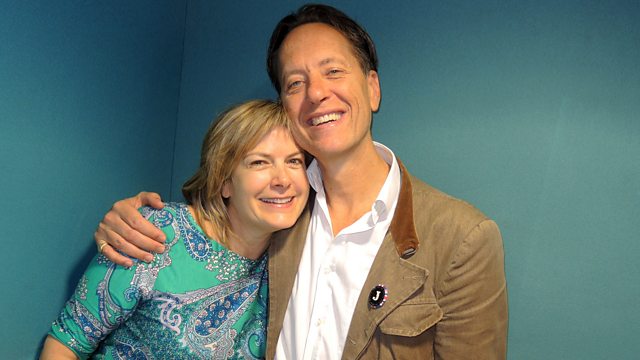 Penny Smith sits in and chats to Richard E Grant
Penny Smith is sitting in for Claudia this week. She's chatting with Richard E Grant about his delight at 'finally' being asked to be in Downton Abbey. Richard Ayoade talks about his new, Dostoevsky-inspired film The Double and reveals how he feels much more comfortable behind rather than in front of the camera. We'll also hear from the man behind the new biblical epic Noah, Darren Aronofsky.
Last on
Richard E Grant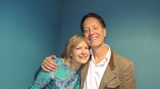 Actor, director and writer Richard E Grant talks to Penny Smith about his forthcoming role as Art Historian, Simon Bricker in the next series of Downton Abbey.
Richard Ayoade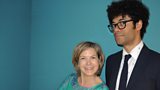 Actor Richard Ayoade, perhaps best known for his role as Maurice Moss in The IT Crowd, talks to Penny about directing his second film The Double.
The Double is out now rated 15.
Helen O'Hara with the Film Review
1: Noah

Director: Darren Aronofsky
Cast: Russell Crowe, Jennifer Connelly, Ray Winstone, Emma Watson
Russell Crowe portrays the man chosen by God to undertake a momentous mission of rescue before an apocalyptic flood destroys the world. Never before has the full story been brought to life on screen in a vivid epic – inviting the audience to experience these spectacular events through the eyes and emotions of Noah and his family, as they journey through fear and faith, destruction and triumph, hardship and hope.
Noah is out now, rated 12A
2: Divergent

Director: Neil Burger
Cast:  Shailene Woodley, Theo James, Kate Winslet
 
Based on the worldwide bestseller, DIVERGENT is set in futuristic Chicago where society is divided into five factions based on personality type, created to bring everlasting peace.
Abgenation - Selfless; Amity - Peaceful; Candor - Honest; Dauntless - Brave; Erudite - Intelligent.  On a given day each year, all sixteen year olds must take a test and choose where they belong. For Tris Prior  the choice is not an easy one. In this divided existence where everyone must conform, Tris is DIVERGENT – a danger and threat to this seemingly perfect world.
 
Divergent is out now, rated, 12A
3: The Double
Director: Richard Ayoade
Cast: Jesse Eisenberg, Mia Wasikowska, Sally Hawkins, Chris O'Dowd, Wallace Shawn
Simon is a timid man, scratching out an isolated existence in an indifferent world.  He is overlooked at work, scorned by his mother, and ignored by the woman of his dreams.  He feels powerless to change any of these things.  The arrival of a new co-worker, James, serves to upset the balance.  James is both Simon's exact physical double and his opposite - confident, charismatic and good with women.  To Simon's horror, James slowly starts taking over his life. 
The Double is out now, rated 15.

DVD/Bluray: The Hobbit: The Desolation of Smaug
Director: Peter Jackson
Cast: Martin Freeman, Ian Mckellan, Richard Armitage, Cate Blanchett.
The second of three epic instalments in director Peter Jackson's blockbuster prequel to 'The Lord of the Rings' trilogy. Set in Middle-Earth 60 years before events in 'The Lord of the Rings', the story follows the adventures of Hobbit Bilbo Baggins, who, at the instigation of the wizard Gandalf, suddenly finds himself co-opted into joining a company of 13 Dwarves led by Thorin Oakenshield to help reclaim the lost kingdom of the Lonely Mountain from the clutches of Smaug the dragon.

The Hobbit: The Desolation of Smaug is out on DVD and Bluray from next Monday.
Alex Heminsley with the Book Review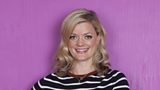 1: The Quick - Lauren Owen 
Set in Victorian Yorkshire on a remote country estate, meet a brother and sister alone in the world and bound by tragedy. In time, you will enter the rooms of London's mysterious Aegolius Club - a society of some of the richest, most powerful men in fin-de-siecle England. And at some point these worlds will collide. It is then, and only then, that a new world emerges, one of romance, adventure and the most delicious of horrors - and the secrets of The Quick are revealed.
 

2: The Valley - Richard Benson
From the author of the bestselling The Farm, which looked at his family farm over the years in a funny, unsentimental way, this book looks at a family over 100 years and the mining community that they are from.
PERSONAL PICK
Home - Julie Myerson

Published about ten years ago, this is the story of the author tracing everyone who has ever lived in her house. Julie Myerson lives in a typical Victorian terraced family house, of average size, in a typical Victorian suburb and she loves it. She wanted to find out how much those who preceded her loved living there, so she spent hours and hours in the archives at the Family Record Office, the Public Record Office at Kew, local council archives and libraries across the country. Like an archaeologist, she found herself blowing the dust off files that no-one had touched since the last sheet of paper in them was typed. As she scraped the years away, underneath she found herself embroiled in a detective hunt as, bit by bit, she started to piece together the story of her house, built in 1877, as told by its former occupants in their own words and deeds.  The book uncovers a lost 130-year history of happiness and grief, change and prudence, poverty and affluence, social upheaval and technological advance.