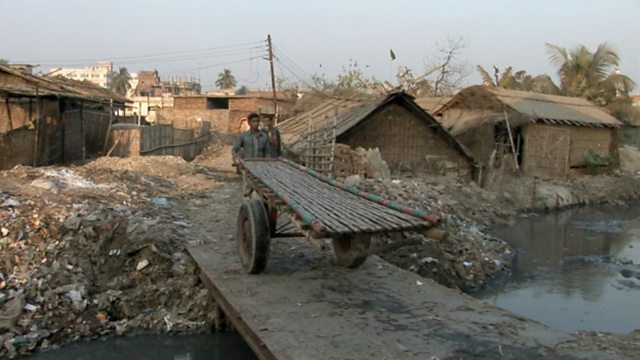 Air taobh a-muigh baile Dhaka, tha slum mòr làn de thaighean-cairtidh far a bheil còrr is còig cheud mìle neach a' fuireach. Gach bliadhna, tha na slumaichean seo a' lìonadh mhargaidean na Roinn Eòrpa le leathar saor.
Tha an luchd-obrach seo mar thràillean, ag obair gach latha aig seann innealan agus ann an suidheachaidhean sgriosail gus ceithir-deug millean bian a dhèanamh na leathar. Tha na ceimigean a thathar a' cleachdadh air an leathar a' losgadh an craicinn, ag adhbhracadh aillse agus a' marbhadh a' mhòr chuid dhiubh mus ruig iad caogad bliadhna a dh'aois.
Tha am fiolm seo a' toirt far comhair seallaidhean à fear dhe na h-àiteachan as uabhasaiche air an Talamh.
On the outskirts of Dhaka lies a giant slum of tanneries and over 500,000 people who work in them. Every year this living hell floods the European market with cheap leather.
The workers here slave away at archaic machinery in absolute squalor, turning 14 million skins into leather. Toxic products used on the leather burn their skin, cause cancer and kill most before fifty.
This film delivers a devastating insight into one of the most terrible places on Earth.
Last on