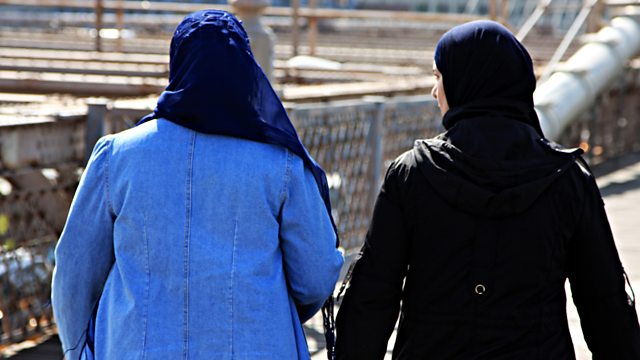 Weekend Woman's Hour: Fatal Attraction; Anita Roddick
Listen in pop-out player
We discuss women, equality and Islam with Sara Khan from Inspire, Salma Yaqoob, Mirina Paananen and Julie Bindell. British Muslim women have low employment rates and poor health compared to many women in the UK. What can or should be done and what role does feminism play?
Fatal Attraction starts a run in the West End - how does the bunny boiler fit into 21st century sexual politics? Sam Roddick on her mum Anita and the impact she had on business ethics and the beauty industry.
BBC News School Reporters discuss exam pressure with Andrew Halls, head teacher at King's College School in Westminster. Business Secretary Vince Cable on the efforts being made to get more women on company boards. Hilary Mantel talks about her favourite character, Thomas Cromwell as part of Radio 4's Character Invasion.
And now lesbians can marry: how to decide what to wear on the big day and what to call yourself when you're a married woman, married to another woman. Melanie Rickie, Alice Arnold and Sue Wilkinson discuss.
Presenter: Jenni Murray
Producer: Rabeka Nurmahomed
Editor: Jane Thurlow.
Last on
Women, Equality and Islam
The Muslim women's charity, Inspire is setting up a new website designed to encourage Muslim women to write about gender discrimination and inequality and we hear from listeners from the BBC Asian Network about their experiences. Jane Garvey is joined by Asian Network presenter Tina Daheley; Sara Khan, director of Muslim Human Rights organisation, Inspire; Salma Yaqoob, former Vice Chair of the Respect Party and Birmingham city councillor, Mirina Paananen who is training to be an Islamic scholar and Julie Bindel, journalist and founder of Justice for Women to discuss feminism, equality, women and Islam. We will also be hearing from two girls who set up the website MeandmyHijaab. 
Fatal Attraction
A stage version of the iconic 1980's film Fatal Attraction opened this week in London's West End. Its creator, James Dearden, says the central character Alex Forrest - portrayed as a 'bunny-boiler' in the original movie - will be seen in a far more sympathetic light in the stage version. What issues does it raise for a modern audience…?
Exam Pressure
Are we putting too much pressure on teenagers to perform in exams? BBC School Reporters at Richmond Park Academy in London talk about the strain they're under and interview their head teacher about the ranking system at their school. And we hear from Andrew Halls, Head Teacher at King's College School, Wimbledon about the wider extent of stress at school and how to help pupils deal with pressure. 
Women on Boards
The latest annual 
Female FTSE Report
 reveals female participation rates have risen to 20.7 per cent of board positions in the FTSE100 – up from 17.3 per cent since nearly a year ago. The report's author, former Trade Minister, Lord Davies, originally set a target of achieving 25 per cent for 2015 which they're on course to achieve if the current improvements continue. The report states there's still a noticeable discrepancy between executive directorships held by women in comparison with women holding non-executive Directorships and 48 all-male boards remain.  So does the lack of increased female visibility on executive boards indicate women's successes aren't wide-reaching enough and what should the government do to make it happen? Could women do more to put themselves in line for leadership? Business Secretary Vince Cable – who's responsible for the report's launch - and founder of The Women's Business Forum, Heather Jackson, join Jenni to discuss.
Nina Nesbitt
The 19 year old singer-songwriter and guitarist from Edinburgh performs live in the studio.
Lesbian Wives
On Saturday 29th March the first same sex marriage ceremonies will take place in England & Wales. For the first time, gay and lesbian people who choose to get married will have the same rights as heterosexual married couples, including the right to legally refer to their spouse as "husband" or "wife". But, given the history of patriarchy connected with marriage, when in the past many wives were in fact seen as the property of their husbands, how comfortable will lesbians feel using the term "wife" to refer both to their partner and to themselves? Many heterosexual married couples prefer alternative terms like "other half" or "significant other" – but are these terms appropriate for lesbians, or should they insist on using "wife" in order to mark the social milestone that is their marriage? Jenni speaks to former BBC Radio 4 newsreader Alice Arnold, who is currently in a civil partnership with the broadcaster Clare Balding and plans to marry in the future, and Sue Wilkinson, who married her partner Celia Kitzinger in Canada in 2003 and subsequently fought to have their marriage legally recognised in the UK.
Credits
| Role | Contributor |
| --- | --- |
| Presenter | Jenni Murray |
| Interviewed Guest | Sara Khan |
| Interviewed Guest | Mirina Paananen |
| Interviewed Guest | Salma Yaqoob |
| Interviewed Guest | Julie Bindel |
| Interviewed Guest | Bel Mooney |
| Interviewed Guest | Karen Krizanovich |
| Interviewed Guest | Antonia Quirke |
| Interviewed Guest | Sam Roddick |
| Interviewed Guest | Lucy Siegle |
| Interviewed Guest | Andrew Halls |
| Interviewed Guest | Vince Cable |
| Interviewed Guest | Hilary Mantel |
| Interviewed Guest | Melanie Rickie |
| Interviewed Guest | Alice Arnold |
| Interviewed Guest | Sue Wilkinson |
| Producer | Rabeka Nurmahomed |
| Editor | Jane Thurlow |