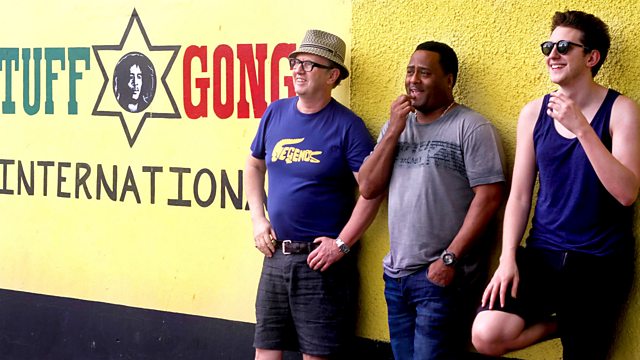 Toddla and Rodigan in Jamaica
In this Stories special, recorded in Jamaica, Toddla T and David Rodigan explore Jamaica's biggest musical genres, focussing on dancehall and roots reggae.
The first part of the story centres on Toddla's journey through Jamaica, as he discovers more about the relationship between Jamaican and UK music. Meeting Jamaican artists and producers from Stylo G to dancehall don Stephen "Di Genius" McGregor, ending up in a music video shot in downtown Kingston, and hearing from UK-based musicians inspired by Jamaican music, Toddla discovers the impact Jamaican music and culture has had on the UK scene.
In the other part of our story, DJ David Rodigan seeks to discover more about what is commonly known as the 'Roots Reggae Revival'. To give you a bit of background, roots rock reggae began in the 1970's and focuses on conscious themes, from everyday lives and social issues to spirituality and religion. The past decade or two however has seen dancehall rise in popularity over roots reggae in Jamaica, until the last year or so, which is seeing a resurgence in roots reggae. Rodgian explores this resurgence, speaking to some of those at the forefront and finding out why the movement is so important; and why roots reggae seemed to dissappear in the first place. Featuring artists, producers and engineers from both the first generation of roots rock reggae, including King Jammy and Gussie Clarke, as well as the second generation, including Luciano and Chronixx.
Last on