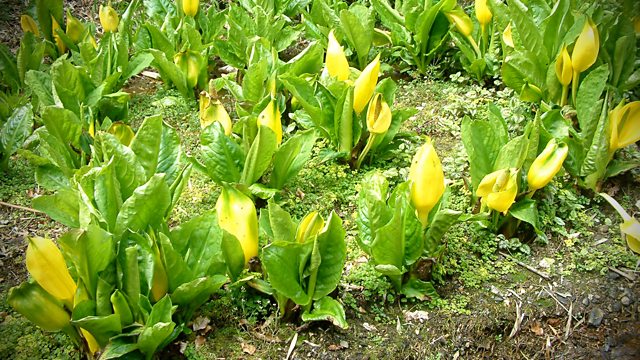 Nottinghamshire
Listen in pop-out player
Eric Robson chairs GQT from Nottinghamshire. Chris Beardshaw, Matt Biggs and Pippa Greenwood answer a range of horticultural questions from an audience of local gardeners.
Matt and Pippa explore one of Britain's most famous forests, and Peter Gibbs visits Attingham Walled Garden to find out everything you need to know about growing against a wall.
Produced by Howard Shannon
Assistant Producer: Darby Dorras
A Somethin' Else production for BBC Radio 4
This week's questions:
Q: Can the team suggest how to restrict the growth of a Picea Erich Frahm (Colorado Spruce) or recommend a suitable replacement?
A: These trees are difficult to prune without affecting their shape, so it is best to leave the tree and chop it down when it has grown too big. A replacement tree could be the Picea Abies Nana, which is very small indeed.
Q: What would be the best way to get rid of Viburnum beetles from a hedge of Vibernum Tinus which is 8ft (2.4m) high, 2ft (60cm) wide and 10ft (3m) long?
A: Try to bring small birds such as blue tits into the area. They will eat the beetles. Attract the small birds with peanut feeders. It is an option to treat the hedge with a contact insecticide, but this might be difficult considering the size of the hedge.
Q: What advice does the panel have for a gardener attempting to grow sweet peppers in an unheated greenhouse in a north-facing garden? Currently, the flowers are dropping just as the buds are forming.
A: This plant likes the warmth; it does not like drafts or overwatering (especially with cold water). The plant would ideally be grown in a bright, sunny spot with consistently warm temperatures. High potash fertiliser would also help. If grown from seed, it might also be worth moving the plants outside later in the season when temperatures are warmer. Fleece may be used to protect them from cold nights. The flowers will drop if they have not been pollinated, so opening the door to insects on warmer days or pollinating by hand could prevent the flowers from dropping.
Q: Can the team recommend a Eucalyptus plant that does not need drastic pollarding at least twice a year to retain a compact and attractive shape?
A: All Eucalyptus trees are hard work and need a lot of pruning. Most people go for Eucalypts Gunnii as it is the easiest to manage. Another way to keep the Eucalyptus manageable would be to make a little knife cut in the side of the trunk when it is very young. This small incision into the bark just a few centimetres above the ground encourages early multi-stemming. Other Eucalyptus options include Eucalyptus Coccifera or a Eucalyptus Dalrympleana which are both hardy varieties.
Q: Would the team recommend pruning Twisted Willows, which are getting out of hand? And when would the panel recommend replanting the trees from their pots, into the garden?
A: Pruning twisted willows is not recommended. The sooner they are replanted into ground, the better.
Q: Does the panel have any tips to stop onion sets bolting (going to seed)?
A: Make sure the bulbs have been heat-treated. However, some years, onions will go to seed and there is not much you can do about it. If there is dry spell at the beginning of the season, make sure the soil is kept moist.
Q: What is the best way to prune a Pyracantha?
A: Prune a portion of the plant after it has finished flowering, but only prune back to where the flower heads were formed and no further. This will ensure the next round of flowers will not be affected.
Q: Could the panel give any advice for growing tall, straight Gladioli?
A: Make sure the plant gets plenty of sun, that it is planted in free draining soil and make sure not to give it too much fertilizer. Weed vigilantly around the plant to make sure it gets as much light as possible.
Last on
Seven things Prince Charles says you should do in the garden