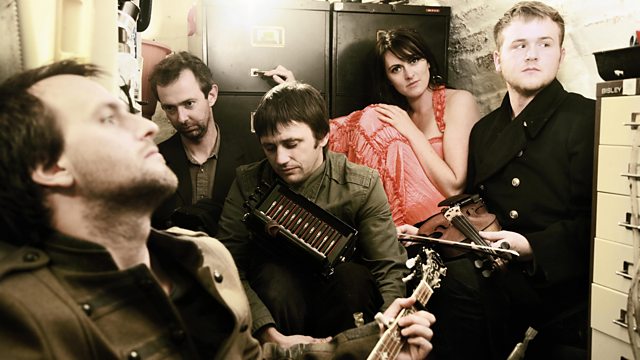 Live at Southbank Centre: Fay Hield and the Hurricane Party, Commonwealth Connections 8
Live at Southbank Centre: Commonwealth Connections 8 plus a session with Fay Hield and The Hurricane Party, presented by Lopa Kothari.
'Commonwealth Connections' is a BBC Radio 3 landmark 26-part weekly series leading up to the Commonwealth Games in July, featuring music from each of the 53 member states, reflecting the range of music and culture across the whole organisation.
Music feature from St Lucia
St Lucia's leading traditional folk band Man May La Kay keep alive the traditional Kwadril music. Drawn originally from the French courtly Quadrille, this is a curious mix of African and European dance styles introduced by the European plantation owners of an earlier era. Once a reminder of their colonial past, the Kwadril has become a national symbol of the people of St Lucia and this joyful music is the definitive Caribbean ceilidh.
Heritage Track from Brunei:
The Loneliness of the Short Distance Runner: 400m sprinter Maziah Mahusin was the only female athlete representing her country at the London Olympics 2012; carrying the Bruneian flag at the Opening Ceremony is one of her proudest moments. Since then she has inspired many young girls to run; these days they turn up in crowds at her training sessions to run alongside her. Maziah chooses a track that reminds her of playing with her siblings as a child, Sebarkan ke Seantero dunia by Putri Norizah. She reflects on how far she's come in her career- and on what it's going to take to live up to the responsibility she now feels to keep training hard and make Bruneians yet more proud of her.
Session with Fay Hield and The Hurricane Party:
By day an ethnomusicologist, by night one of England's most original folksingers, Fay Hield performs here with some of the leading luminaries of English folk, including Jon Boden, Sam Sweeney, Rob Habron and Andy Cutting
Radio 3 is broadcasting live from a pop-up studio at London's Southbank Centre all day every day for the last two weeks of March. If you're in the area, visit the Radio 3 studio and performance space in the Royal Festival Hall Riverside Café to listen to Radio 3, ask questions and enjoy the special events.
Last on
Seven pioneering figures in world music
BBC Introducing on World on 3