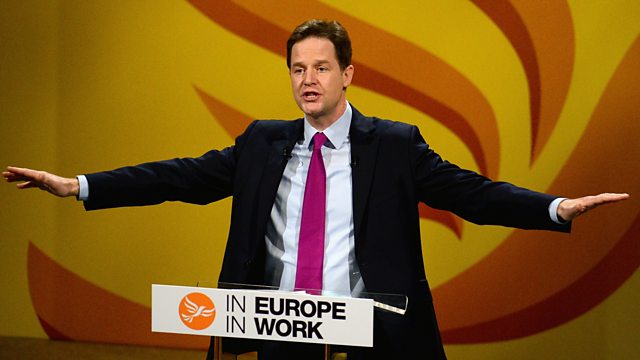 26/03/2014
Listen in pop-out player
Heated debate on the EU between Nick Clegg and Nigel Farage. With Carolyn Quinn.
Nick Clegg and Nigel Farage, the leaders of the Liberal Democrat and UK Independence parties, went head to head in the first of two debates about the European Union. Full coverage of the debate; along with response from MEPs from other countries and from a panel live in the World Tonight studio.
President Obama has said every NATO member state must step up and take its share of the burden of collective defence within the alliance. In a speech in Brussels, Mr Obama said we were not entering another Cold War, but if Russia stayed on its current course its isolation would be deepened and sanctions expanded. The British Defence Secretary joined the programme live from a visit to Washington DC.
Diplomatic relations between South Africa and Rwanda are not good. This month, South Africa expelled four Rwandan diplomats. It had linked them - and their government - to the recent murder in Johannesburg of a former high ranking Rwandan intelligence official. He'd turned against his government and become an opposition activist. Rwanda has denied any involvement. Gabriel Gatehouse retraces the steps of the victim.
Lawyers say that works of art looted by the Nazis and hidden for decades by the son of the art-dealer Cornelius Gurlitt will be returned. Two troves were recently discovered of pictures he had stored secretly at his homes in Munich and Salzburg. They have been held at secret locations. Steve Evans has been given exclusive access.
Last on