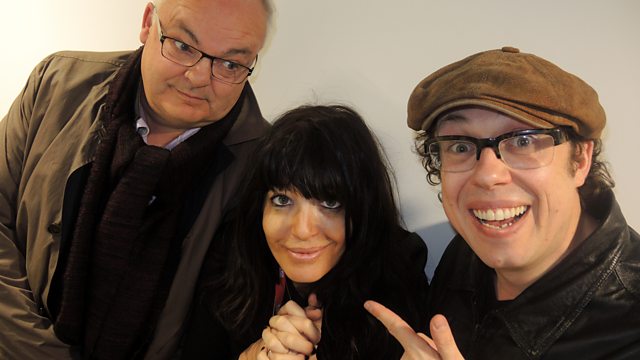 Gary Morecambe and John Tiffany
Gary Morecambe chats to Claudia about his dad Eric and the show celebrating his life, along with Bob Golding who plays the legendary entertainer. Plus director, John Tiffany explains how he turned a Scandi vampire thriller into a hit play and author Benjamin Black reveals how he channelled Raymond Chandler to create a new case for Philip Marlowe. There's also a wart-and-all interview with Miss Piggy and Kermit.
Last on
Bob Golding and Gary Morecambe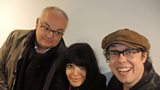 Morecambe starring Bob Golding, and produced by Eric's son Gary, tells the story of the man who brought us sunshine...From humble beginnings as a child-performer on Morecambe Pier to the glitz and glamour of international stardom and the mantle of "Britain's best loved comic".
Morecambe is in Eastbourne next week, and tours nationwide until June.
John Tiffany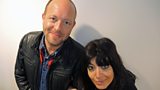 Let The Right One In tells the story of Oskar a bullied lonely teenage boy living with his mother on a housing estate at the edge of town, when a spate of sinister killings rock the neighbourhood.
Eli is the young girl who has just moved in next door. She doesn't go to school and never leaves the flat by day. Sensing in each other a kindred spirit, the two become devoted friends.
Directed by Tony and Olivier Award-winning director John Tiffany, he joins Claudia to talk about the play which has just transferred to the West End.
Let The Right One In is on at London's Apollo theatre and booking until September.

John Banville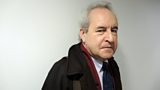 The Black-Eyed Blonde is the new Philip Marlowe mystery from the Booker Prize winning John Banville, writing as Benjamin Black.
It is the early 1950s, Marlowe is as restless and lonely as ever, and business is a little slow. Then a new client is shown in: young, beautiful, and expensively dressed, she wants Marlowe to find her former lover, a man named Nico Peterson. Marlowe sets off on his search, but almost immediately discovers that Peterson's disappearance is merely the first in a series of bewildering events. Soon he is tangling with one of Bay City's richest families and developing a singular appreciation for how far they will go to protect their fortune.
The Black-Eyed Blonde by Benjamin Black is out now.
Robbie Collin with the film review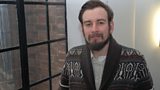 1: Captain America: The Winter Soldier

Directors: Anthony Russo, Joe Russo
Cast: Chris Evans, Scarlett Johannson, Robert Redford

The patriotic superhero returns in 'Captain America: Winter Soldier' and this time there's an unwelcome blast from the past in the form of the villainous Winter Soldier. Set in a post-Avengers world, all-American super soldier Steve Rogers is still struggling to adapt to the modern world and the challenges it throws at him as he works with S.H.I.E.L.D. He teams up with the Black Widow and winged newcomer Falcon to take on his newest nemesis - the Winter Soldier!

Captain America: A Winter Soldier is out from tonight, rated 12A.

2: 20 Feet From Stardom
Director: Morgan Neville
Cast: Darlene Love, Merry Clayton, Lisa Fischer

Millions know their voices, but no one knows their names. In his compelling new film award-winning director Morgan Neville shines a spotlight on the untold true story of the backup singers behind some of the greatest musical legends of the 21st century
20 Feet from Stardom is out now, rated 12A.
3: Muppets: Most Wanted

Director: James Bobin
Cast: Ricky Gervais, Ty Burrell, Tina Fey

Disney's "Muppets Most Wanted" takes the entire Muppets gang on a global tour, selling out grand theaters in some of Europe's most exciting destinations, including Berlin, Madrid, Dublin and London. But mayhem follows the Muppets overseas, as they find themselves unwittingly entangled in an international crime caper headed by Constantine-the World's Number One Criminal and a dead ringer for Kermit the Frog-and his dastardly sidekick Dominic, aka Number Two, portrayed by Ricky Gervais. The film stars Tina Fey as Nadya, a feisty prison guard, and Ty Burrell as Interpol agent Jean Pierre Napoleon.

Muppets Most Wanted is out now, rated U.

4: Dvd /Bluray:  Frozen
Director: Jennifer Lee,Chris Buck
Cast:  Kristen Bell, Alan Tudyk, Idina Menzel, Josh Gad
Fearless optimist Anna (voice of Kristen Bell) sets off on an epic journey - teaming up with rugged mountain man Kristoff (voice of Jonathan Groff) and his loyal reindeer Sven - to find her sister Elsa (voice of Idina Menzel), whose icy powers have trapped the kingdom of Arendelle in eternal winter. Encountering Everest-like conditions, mystical trolls and a hilarious snowman named Olaf, Anna and Kristoff battle the elements in a race to save the kingdom.
Frozen is out on dvd and bluray from Monday, rated U.
Michael Billington with the theatre review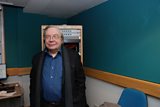 1. Blithe Spirit at the Gielgud.
Angela Lansbury is back on a London stage for the first time in 40 years in
Noel Coward's 1941 comedy about a novelist who holds a seance and finds a
bungling spiritualist has summoned up the ghost of his first wife.
Blithe Spirit runs at the Gielgud until June 7
2. I Can't Sing at the London Palladium
Written by Harry Hill with music and lyrics by Steve Brown, this show is a
send-up of The X Factor and, in particular, the dominating figure of Simon
Cowell.
I Can't Sing runs at the Palladium until October 25
3. Other Desert Cities at the Old Vic, London
This is a new American play by Jon Robin Baitz that mixes a family drama and
politics. It's set in Palm Springs and shows the daughter of a dyed-in-the-wool
Republican family coming home for a Christmas with the manuscript of a memoir
that will blow the family apart.
Other Desert Cities runs at the OLd Vic, London until May 24

4. This May Hurt A Bit at the Bolton Octagon
Since pretty much everyone has some experience of the NHS, it's a great
subject for a play. Stella Feehily has now written one which looks at the
good and bad points of the service. It's directed by Max Stafford-Clark for
the touring company, Out of Joint.
This May Hurt A Bit is at the Octagon, Bolton until April 5 and then tours the  UK before opening at the St James's London on May 19.