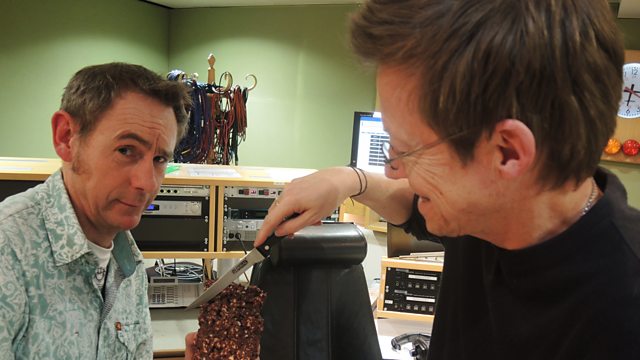 Featuring Guy Garvey from Elbow
Simon is joined by Guy Garvey from Elbow ahead of the band's Radio 2 concert from the BBC Maida Vale studios. Plus there's another feast for the ears with resident chef Nigel Barden. Rebecca is on the money, Matt has the sport and Sally Traffic has the all important travel updates.
Last on
Maya Gold Chocolate Popcorn by Joanne Harris and Fran Warde from The Little Book of Chocolat
This easy to make treat celebrates the two most venerated foods of the Mayan and Aztec culture – maize and chocolate, for a deliciously salty-sweet combination.
Serves 8
Takes 3 hours
Ingredients
50g maize or popcorn
150g dark chocolate broken into small, even-sized pieces
150g milk chocolate broken into small, even-sized pieces
100ml double cream
1 tsp crystal sea salt
22 x 12cm loaf tin
Method
Line a 22 x 12cm loaf tin with cling film
If using maize heat it in a popcorn machine, the microwave or in a pan over a medium heat until the maize bursts into popcorn.
In two separate bain-maries melt the dark and milk chocolate
Then when melted, add half the cream to each and quickly blend in until the mixture stiffens.
Pour both on to the popcorn, then add ½ tsp of the crystal sea salt and mix until all the popcorn is coated.
Place in the lined loaf tin and press down. Then sprinkle the top with the remaining salt.
Put in the fridge to cool and set for at least 2½ hours.
Remove from the tin, peel away the cling film and slice with a large, sharp knife.
Nigel's Top Tips:
You can mix the 2 chocolates together before melting.
Make sure there's something for your bowl to rest on in the bain-marie, so it's not touching the bottom of the pan.
Today's Most Popular Tracks
Most added tracks from this show