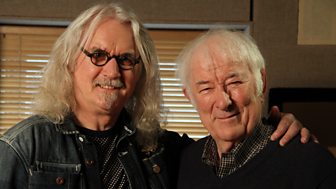 Five Fables
Enchanting new series depicting Aesop's classic fables in a modern translation, narrated by Billy Connolly.
On demand
This programme is not currently available on BBC iPlayer Radio
On radio
There are no upcoming broadcasts of this programme
Last on
Sun 13 Apr 2014 14:03
BBC Radio Foyle
About the programme
Five medieval Scots fables, translated by Seamus Heaney, have been brought into the 21st century as enchanting tales for BBC Radio Ulster to complement the full animation series for BBC Northern Ireland television.
Narrated by acclaimed comedian/actor Billy Connolly and with a specially-composed score by internationally renowned pianist Barry Douglas, Five Fables, made by local animation studio Flickerpix, is an ambitious re-telling of stories written 500 years ago by the medieval Scots poet, Robert Henryson.
Beginning on BBC Radio Ulster, Sunday 16 March at 2.04pm, programme one centres around two mice who are sisters and looks at the lure of the city which for the urban dwelling mouse seems on the surface to be much better than the rougher country life of her country sister, but as she finds out to her cost, the city is not without its dangers. Listeners will discover that simple, homely living has its benefits.
Five Fables is a Flickerpix Production for BBC Northern Ireland with support from the Northern Ireland Screen Ulster-Scots Broadcast Fund.