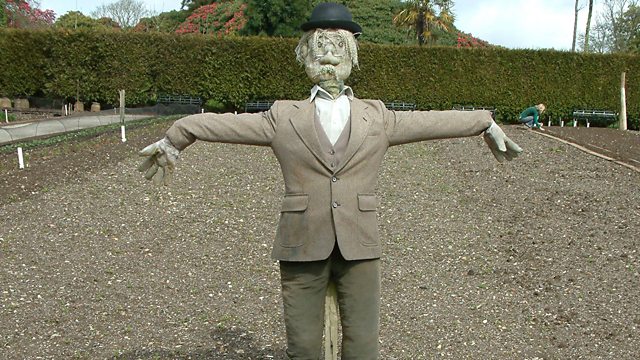 Correspondence at Sparsholt
Listen in pop-out player
Eric Robson hosts from the GQT potting shed at Sparsholt College as Bob Flowerdew, Anne Swithinbank, Christine Walkden and Rosie Yeomans tackle listeners' questions sent in by post, email and social media.
Produced by Howard Shannon.
A Somethin' Else production for BBC Radio 4
This week's questions:
Q. I am providing posies for a wedding in August. I have chosen Sweet Peas but was wondering when to get them germinating (in our airing cupboard) so they will be ready in time?
A. Ideally they would have been sown last month because they can be quite slow. The other issue is that they may have stopped flowering by August, so keep cutting every bloom off until about two weeks before the occasion and then let it flower freely. Make sure you keep them watered and well fed. The airing cupboard may be too dark and warm, and they may shoot up very quickly and create a spindly plant. A windowsill would probably be better. Some varieties require the seeds to be soaked first.
Q. I recently found a packet of apple seeds dated 1991. Is there a chance that they are still viable and how would I go about germinating them?
A. Divide them into several lots and try out different conditions. Plant one lot in well-drained seed compost and only cover it by its own size. Try some others in normal greenhouse temperatures. Thirdly, try another pot out in the cold frame. Beware that they will probably have gone off unless they have remained cool and sealed. If you are successful, grow it in a pot, buy a tree and try approach grafting. The graft takes place while the plant is still potted and you remove the pot at a later date.
Q. I have a large garden that is becoming infested with Cuckoo Pint. I have dug it out where I can but it is multiplying. How can I control it?
A. Often you only remove the leaf and stem, and the tuber remains. Even if you do remove the tuber, little bits get left behind. You can use weed killers but you will have to physically remove it if it is amongst other plants. It thrives in shady, damp gardens, so perhaps it is time to have the hedges and trees pruned. If you repeatedly hoe them off then you will eventually weaken the bulb.
Q. I will soon be leaving the UK and there will be no family left here to look after my parents' gravesite. I have thought of bulbs and herbs but would like some advice for this clay spot.
A. As long as the clay-soil is well drained, then stick to Alpines and short varieties like Houseleeks. In shadier spots try something like Primula Marginata. Alpines are self-cleaning, have a long flowering season and remain prostrate. You could go for a mixture of bulbs because they will endure almost longer than anything else.
Q. I am holding a party at the beginning of November this year. Could the panel suggest plants that could be used for cut flower arrangements or in pots. I'm looking for white flowers, and scent would be great.
A. Try the beautiful Schizostylis Coccinea 'Alba' with its pure white flower or the white Cyclamen Hederifolium. There is always the option of sowing annuals but don't sow them until June. Something such as Gypsophila sown late could work. Chrysanthemums are ideal for that time of year. White Dahlias might also work if given some protection.
Q. We run an allotment in old bathtubs. We grow vegetables to make "audience soup" for the community theatre. This year we are expanding our allotment to include a small mobile orchard. We intend to plant apple and pear trees in large containers, which would then be carefully moved around to areas for outdoor performances. Could the panel recommend varieties that will stand up to these unusual circumstances?
A. Discovery is the best early apple. Many of the apples don't keep long after being picked from the tree. You could try cherries, such as the Morello. Make sure they are well fed and watered. Ashmead's Kernel or Crispin will provide apples later in the season.
Last on
Five gardening tips from Henry VIII