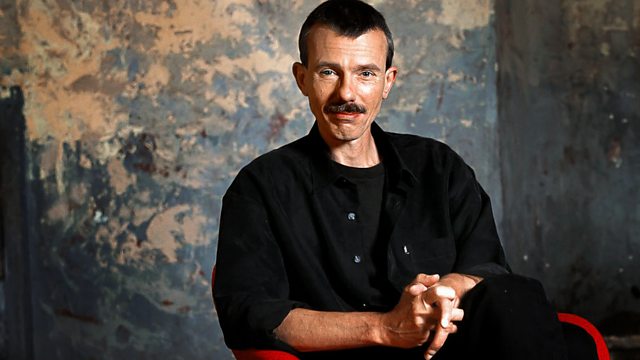 20/03/2014
French greats of the piano Eric Le Sage and Frank Braley duo in Mozart, Poulenc and Schubert's sublime Fantasy in F Minor. Presented by Jonathan Swain
12:31 AM
Mozart, Wolfgang Amadeus [1756-1791]
Sonata in D for Two Piano K448
Frank Braley, Eric Le Sage (pianos)
12:52 AM
Poulenc, Francis [1899-1963]
Sonata for Two Pianos
Frank Braley, Eric Le Sage (pianos)
1:14 AM
Schubert, Franz [1797-1828]
Fantasy in F Minor for Piano Four Hands D940
Frank Braley, Eric Le Sage (pianos)
1:32 AM
Brahms, Johannes [1833-1897]
Variations on a Theme by Haydn Op.56b
Frank Braley, Eric Le Sage (pianos)
1:50 AM
Schumann, Robert [1810-1856] [arr. Debussy, Claude 1862-1918]
Canon for Pedal Piano
Frank Braley, Eric Le Sage (pianos)
1:53 AM
Martin, Frank [1890-1974]
Concerto for 7 wind instruments, strings & percussion
Liège Philharmonic Orchestra, Fayçal Karoui (conductor);
2:13 AM
Bach, Johann Christian (1735-1782)
Quintet (Op. 11) no 4 in E flat major for flute, oboe, violin, viola and double bass;
Les Ambassadeurs
2:31 AM
Tormis, Veljo (b. 1930)
Jaanilaulud (St. John's Day Songs) (1967)
BBC Singers, Stephen Cleobury (conductor)
2:48 AM
Schumann, Robert (1810-1856)
Sonata for piano no. 1 (Op.11) in F sharp minor
Martin Helmchen (piano)
3:17 AM
Vivaldi, Antonio [1678-1741]
Concerto in F (Rv.574) for violin, 2 oboes, 2 horns, bassoon & cello
Zefira Valova (violin), Anna Starr & Markus Müller (oboes), Anneke Scott & Joseph Walters (horns), Moni Fischaleck (bassoon), Les Ambassadeurs, Alexis Kossenko (director)
3:30 AM
Walton, William [1902-1983]
Two Pieces for Strings from Henry V
Manitoba Chamber Orchestra, Roy Goodman (conductor)
3:35 AM
Massenet, Jules (1842-1912)
Manon: Prelude to Act 1
Orchestre Symphonique de Québec, Simon Streatfield (conductor)
3:39 AM
Sweelinck, Jan Pieterszoon (1562-1621)
Psalm 110: Le Toutpuissant a mon Seigneur et maistre
Netherlands Chamber Choir, Peter Phillips (conductor)
3:47 AM
Mozart, Wolfgang Amadeus (1756-1791)
Overture from Die Zauberflöte (K.620)
Bergen Philharmonic Orchestra, Michael Christie (conductor)
3:55 AM
Chopin, Fryderyk [1810-1849]
Ballade for piano no. 4 (Op.52) in F minor
Khatia Buniatishvili (piano)
4:06 AM
Bach, Johann Sebastian (1685-1750)
Concerto for keyboard and string orchestra No.4 in A major (BWV.1055)
Lars-Ulrik Mortensen (harpsichord), Ensemble 415
4:20 AM
Brahms, Johannes (1833-1897) arranged for orchestra by Dvorák, Antonín (1841-1904)
Hungarian Dance No.21 in E minor orch. Dvorák (orig. for piano four hands)
BBC Concert Orchestra, Barry Wordsworth (conductor)
4:24 AM
Beethoven, Ludwig van [1770 -1827]
Adagio in E flat (WoO.43 No.2) for mandolin and piano
Lajos Mayer (mandolin), Imre Rohmann (piano)
4:31 AM
Aufschnaiter, Benedict Anton (1665-1742)
Menuett, Gavotta and Menuett from Serenade No.3 in G minor
L'Orfeo Barockorchester, Michi Gaigg (director)
4:34 AM
Chopin, Fryderyk [1810-1849]
Study Op.10 No.3 in E major
Daniil Trifonov (piano).
4:39 AM
Nielsen, Carl [1865-1931]
Overture to Maskerade (FS.39)
Bergen Philharmonic Orchestra, Leif Segerstam (conductor)
4:44 AM
Larsen, Tore Björn (b. 1957)
Tre rosetter
Fionian Chamber Choir, Alice Granum (director)
4:58 AM
Buxtehude, Dietrich (1637-1707)
Passacaglia in D minor (BuxWV.161)
Bernard Lagacé (Beckerath organ of the Church of the Immaculate Conception, Montréal)
5:05 AM
Hummel, Johann Nepomuk (1778-1837)
Piano Quintet in E flat major/minor (Op.87) (1825)
Tobias Ringborg (violin), Ingegard Kierkegaard (viola), John Ehde (cello), Håkan Ehrén (double bass), Stefan Lindgren (piano)
5:25 AM
Schreker, Franz (1878-1934)
Ekkehard (Op.12): Symphonic Overture
BBC Philharmonic Orchestra, Vassily Sinaisky (conductor)
5:38 AM
Bach, Johann Sebastian (1685-1750)
Suite no.1 in C major (BWV.1066)
Musica Antiqua Köln, Reinhard Goebel (conductor)
6:04 AM
Bruckner, Anton (1824-1896)
Te Deum for soloists, chorus and orchestra in C major
Giorgia Milanesi (soprano), Ulfried Haselsteiner (tenor), Anne Margrethe Punsvik Gluch (soprano), Thomas Mohr (baritone), Håvard Stendsvold (bass-baritone), Kristiansand Cathedral Choir, Norwegian Radio Orchestra, Rolf Gupta (conductor).
Last on