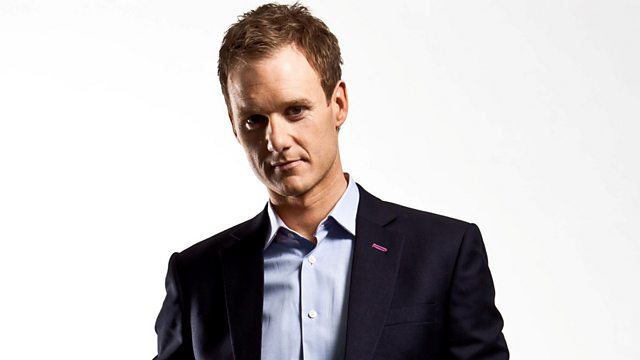 Sport Relief 2014
Dan Walker visits a church transformed into a winter-themed sporting arena, meets the Paralympian long jumper hoping to leap into the record books and introduces hymns and songs that continue to inspire sports fans.
Last on
Factsheet for Sunday 9th March 2014
Dan Walker visits a church transformed into a winter-themed sporting arena, meets the Paralympian long jumper hoping to leap into the record books and introduces hymns and songs that continue to inspire sports fans.
Interviewees
Stef Reid
Paralympic sprinter Stef Reid visits YMCA Crewe to meet young women affected by homelessness.  Born in New Zealand to two British parents, Stef began competing for Great Britain in 2010 and broke 3 World Records in the space of 2 months, before going on to win a silver medal in the long jump at the London 2012 Paralympic Games.  She hopes to make history by being the first British amputee to compete in an able-bodied athletics event.  She aims to qualify for the able-bodied long jump at the Commonwealth Games in Glasgow and is preparing for the Paralympic Games in Rio 2016. 
Aged 16, Stef lost her right foot in a boating accident. Her life was saved by the surgeon who stemmed the blood flow by amputation.  Stef was very sporty before the accident, but had trouble playing rugby afterwards because referees felt her artificial leg could injure other players.  Instead, she gained a full scholarship to Queen's University to study biochemistry. There, she joined the campus athletics team, and moved on to top level Paralympic sport.
The Rev. Barry Jackson
The Rev Barry Jackson is Priest in Charge of 6 parishes in Warwickshire – Combroke, Kineton, Radway, Ratley, Warmington and Shotteswell – known as the Edgehill Churches.  In 2012, inspired by the London 2012 Olympic and Paralympic Games, the parishes ran the Edgehill Games which saw the villages compete against each other in a series of 28 events, including the Tour-de-Edgehill and Half Marathon, to Computer Game Kart Racing, Teddy Bear Parachuting and the Modern Pub Pentathlon.  There were Gold, Silver and Bronze medals for the winners of each event and a trophy for the village that wins the most medals at the end of the games.  The games were a great success, realising their goal of bringing the villages together, while raising over £1200 for Sport Relief.
The Rev. Jan Gould
From the age of 5, Jan Gould wanted to be a professional musician.  But when a tumour stopped her playing the viola professionally at 24, she was devastated.  Instead, Jan pursued another calling, and became a vicar.  And rather than give up music completely, Jan now uses her skills to bring music to children who otherwise would never be given the opportunity to learn an instrument through the charity that she started, Making Music Changing Lives.  The charity is run in her church, the Church of the Resurrection, Ely, Cardiff.
Richard Holmes
Richard Holmes is the Development Manager at YMCA Crewe, a Christian charity that has received funding from Sport Relief.  
Rhys Meirion
Welsh tenor Rhys Meirion visited Making Music Changing Lives at Cardiff's Church of the Resurrection; surprising children there by joining them in a performance of the Welsh hymn Ar Hyd Y Nos – All Through The Night.  Rhys is more used to singing opera on stages across the world, having been a Company Principal at the English National Opera before becoming a freelance performer.  He has just premiered the main role of King Edward in Karl Jenkins' latest work, The Bard of Wales, at Carnegie Hall, New York.
Musicians
Stuart Townend 
Stuart is a worship leader based in Brighton, and is best known as one of the leading worship songwriters of his generation.   Songs such as How Deep The Father's Love, In Christ Alone, Beautiful Saviour and The Power of the Cross are sung across the world and in many denominations.  He often collaborates with Keith and Kristin Getty.  The son of an Anglican vicar, Stuart's songs combine deep/profound theological ideas with memorable melodies.
Tessera
Tessera grew out of the Adventist Vocal Ensemble and is a quartet whose work is largely TV performances. Ken Burton is founder, musical-director. Tessera are: Ken Burton/Paul Lee/Trevor Johnson/Robert Carr
Locations
St Peter's Church, Kineton
Dan Walker visited St Peter's Church to take part in the Edgehill Winter Games, where the six villages of the Edgehill Churches were pitted against each other, with events including curling without ice to a treasure hunt and snowball dodge ball.  St Peter's Church is a picturesque parish church in Kineton, Warwickshire, with a tower that dates back to the early 14th century.  The tower houses a ring of eight bells which are still rung today.
YMCA, Crewe
YMCA Crewe provides services to people of all faiths and none who struggle to survive or thrive in one way or another, and has recently seen an increase in the number of young women accessing its homeless services.  It runs courses which use sporting activities to increase motivation, and counter social exclusion and marginalisation in young women who have experienced homelessness.  Using the power of sport, one particular project aims to increase confidence and self-worth, improve health and resilience to cope with life's challenges, to improve achievement in education and employment using transferable skills, thus avoiding antisocial behaviour and reducing repeat homelessness.
For more information about YMCA, Crewe, please visit:
Cumberland Arena, Crewe
Stef Reid was seen training at the Cumberland Arena in Crewe, currently home to Crewe and Nantwich Athletics Club, Crewe FC, Crewe & Nantwich Girls FC and football teams from Manchester Metropolitan University, as well as running extremely successful athletics sessions.  It is also home to the Crewe Jaguars Athletics Club and Blue Blazers disability football team, which provide athletics opportunities for individuals with disabilities.
Making Music Changing Lives, Cardiff
Making Music Changing Lives is a project that has received funding from Sport Relief, and aims to provide music education to children and young people from deprived areas of Cardiff.  It was inspired by El Sistema, which for the past 30 years has taught street children in Venezuela to play instruments, and lifting them out of poverty in the process.  Children attending the classes run at the Church of The Resurrection in Ely, Cardiff are provided with a musical instrument, given tuition and support and take part in ensemble activities. This helps the children to develop their self-confidence, learn new skills and develop greater aspirations for the future. The project also helps to develop an improved sense of cohesion and pride in the wider community. 
Credits
| Role | Contributor |
| --- | --- |
| Presenter | Dan Walker |
| Producer | Peter Taylor |
| Executive Producer | David Taviner |
Songs of Praise is on tour this summer and we need you!