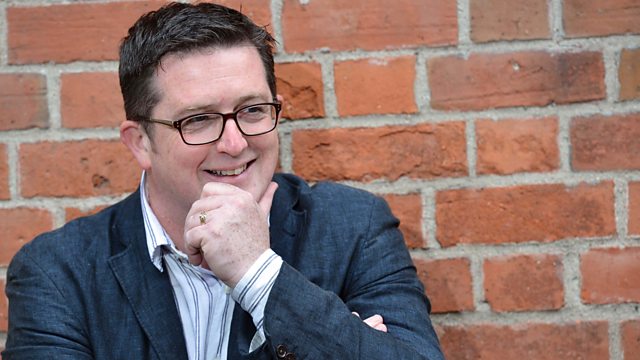 08/03/2014
John Toal looks at health, relationships, hobbies and family along with great music and chat, big interviews, fascinating people and great craic, plus recipes from Paula McIntyre.
Last on
Fresh Papparadelle Pasta with Italian Sausage Balls and Mushroom and Rosemary Sauce
Fresh Papparadelle Pasta with Italian Sausage Balls and Mushroom and Rosemary Sauce 
Fresh Papparadelle Pasta
200g "00" flour or strong bread flour
5 egg yolks
pinch salt
½ dessertspoon oil
In a food processor blend until the mixture just comes together – it may need a little cold water – shouldnt be doughy.
Wrap in cling and chill.
Set the pasta roller to the widest setting.
Roll the pasta into a sausage and then into a rectangle that will just fit into the roller – not bigger or it'll get stuck.
Roll through then repeat. Lower the setting and keep rolling until you reach the setting before the last.
Place on a lightly floured board and cut with a knife or pastry wheel, at an angle into strips about 2cm wide.
Dry on the board.
To cook bring a big pot of salted water to a rolling boil.
Italian sausage balls with mushroom and rosemary sauce
500g pork mince
1 small onion, finely minced
1 teaspoon fennel seeds crushed
2 tablespoons breadcrumbs
50g finely chopped salami
1 teaspoon salt
fresh ground black pepper
Set oven to 180oc and lightly oil a baking tray.
Mix together the ingredients and make into small bite sized balls.
Place in oven for 10 minutes.
Mushroom and rosemary sauce
1 onion, peeled and chopped
1 stick celery, peeled and chopped
2 cloves garlic minced
2 tablespoons oil
100g chopped mushrooms
150ml chicken stock
100ml dry white wine ( or extra stock)
1 tablespoon rosemary
handful chopped parsley
75g grated parmesan
Heat a tablespoon of the oil in a pan and add the onion, celery and garlic.
Cover and cook over a low heat until soft.
Add the white wine, chicken stock and rosemary.
Add the cooked sausage balls and their juices
Simmer.
Heat the remaining oil in a large pan and when smoking add the mushrooms.
Cook for 1 minute and add to the sauce.
Add the parmesan and parsley.
Season to taste.
Stir in the cooked pasta, coat well and serve.