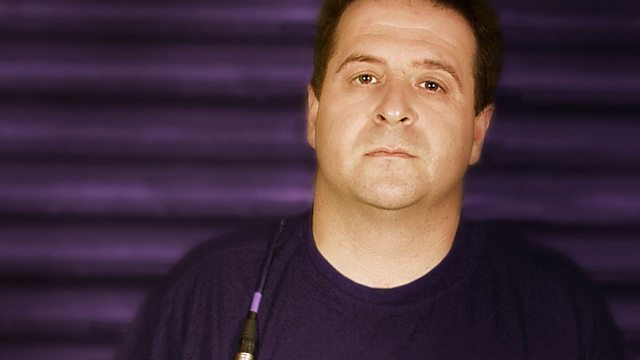 Sanjeev Kohli sits in
For the first time, the whole of BBC Radio is teaming up to run, swim and cycle 25,000 miles (the circumference of the world) for Sport Relief - and today Jackie Bird takes to the treadmill to clock up the miles. Can she beat John Beattie's time from yesterday?!
We're joined by British paralympian Nathan Stephens who is taking part in the Strictly Come Dancing Sport Relief special. As well as competing at the London Paralympic Games in 2012, that same year he went on to marry his girlfriend and in doing so he learnt - for the first time - to dance on prosthetic limbs so they could have their first dance together. The footage was a tear jerking online hit. For this year's Sport Relief Nathan is taking part in a special group dance along with other paralympians.
Chef Jak O'Donnell cooks another Great Thing for us... This week she tries to master the perfect prawn cocktail.
Ever wondered how you can make a brilliant pizza from scratch at home? We'll find out how...
Over the decades, comedian Mark Thomas has poked his nose into enough things to cause a politician to resign, arms deals to collapse, reform inheritance tax law, force the odd multinational to clean up its act a little and accidentally become Guinness World Record holder for political protests. He tells us about his latest tour '100 Acts of Minor Dissent'.
And we learn how to get that work / life balance sorted by switching off from work!
Last on
Jak's Prawn Cocktail
Bloody Mary Cocktail sauce
2 small lemons
1 small lime
1 cup ketchup
1 cup Heinz Chili sauce
2 Tbs. prepared white horseradish; more to taste
2 Tbs. Vodka
1 Tbsp Sherry
1 Tbs. Worcestershire sauce
2 tsp. puréed canned chipotle chile in adobo; more to taste
1/8 tsp. celery salt; more to taste
6Tbs. Quality Mayonnaise
Finely grate the zest from the lemons and then juice them. Juice the lime. In a nonreactive bowl, mix 3 Tbs. of the lemon juice, 2 Tbs. of the lime juice, and all of the zest with the ketchup, chili sauce, horseradish, vodka, Sherry, Worcestershire, mayonnaise, chipotle, and celery salt until well combined.
The sauce can be refrigerated for up to a week. Add more horseradish, chipotle, lemon juice, or celery salt to taste before serving.
To make into Prawn Cocktail
4 Scottish Langoustine cooked in the shell & peeled per person (peel 3)
1 little Baby gem lettuce
1 punnet cherry tomatoes
Place the small leaves onto the plate which will hold the cocktail.
Fill the leaves with prawns top with cocktail sauce.
Garnish with ¼ cherry tomatoes.