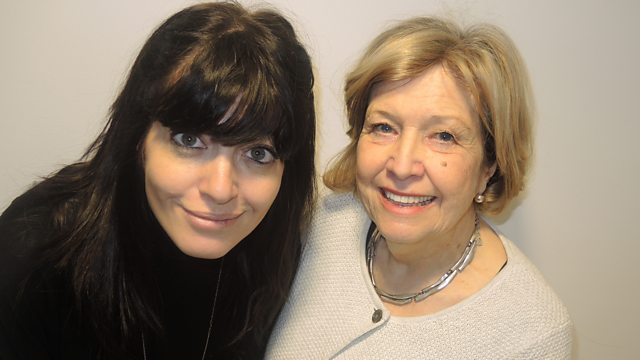 Jeffrey Archer and Anne Reid
Jeffrey Archer chats to Claudia about his new book Be Careful What You Wish For and actress Anne Reid discusses her new one-woman cabaret show. Expect celebrity anecdotes and language you wouldn't see in Last Tango in Halifax.
Last on
Jeffrey Archer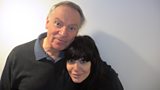 Author and former politician Jeffrey Archer joins Claudia to talk about his new book Be Careful What You Wish For.
Be Careful What You Wish For by Jeffrey Archer is out now published by Macmillan.
Anne Reid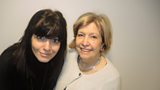 In her career, actress Anne Reid has, amongst other things, married Ken Barlow in Coronation Street, and more recently starred as Celia alongside Derek Jacobi in the BBC romantic comedy drama series Last Tango in Halifax. Now, she's about to perform in her own one woman show.
You can see Anne performing In A New Key at the Crazy Coqs Club in London between 25th and 29th March
Xan Brooks with the film review
1: Under the Skin
Director: Jonathan Glazer
Cast: Scarlett Johansson
Jonathan Glazer's elliptical sci-fi about an alien creature who stalks down human prey is a brilliant amalgam of fantasy and reality. In a stunning early sequence of metamorphosis, the naked femme fatale dons the attire of her predecessor and goes out on the prowl in a non-descript van, effortlessly procuring not-so gullible lads from the backstreets of Glasgow and local highways and luring them into an unimaginable void. Through alien eyes, the world appears desolate, the men all hungry and wanting. Through human eyes, her insatiable drive feels strangely vindicated. The cycle mutates when a routine pick-up unexpectedly kindles an empathetic response, infecting her with humanness and illuminating the fate of the one who came before.
Under the Skin is rated 15 and is out from today.
2: Need for Speed
Director:Scott Waugh
Cast: Aaron Paul, Dominic Cooper, Imogen Poots, Michael Keaton
Fresh from prison, framed for a crime he didn't commit, street racer Tobey Marshall, is hell bent on settling the score. With revenge at the forefront of his mind, he gears up for the ultimate cross-country race heaving with adrenaline-charged muscle machines and high-octane super cars.  When his powerful rival places a massive bounty on his head, the wheels are set in motion and the race is finally on.
Need for Speed is a 12A and is out now.
3: The Zero Theorem

Director: Terry Gilliam
Cast: Christoph Waltz, Melanie Thierry, David Thewlis, Tilda Swinton
Set in a future London, The Zero Theorem stars Christoph Waltz as Qohen Leth, an eccentric and reclusive computer genius plagued with existential angst. He lives in isolation in a burnt-out chapel, waiting for a phone call which he is convinced will provide him with answers he has long sought. Qohen works on a mysterious project, delegated to him by Management, aimed at discovering the purpose of existence.

The Zero Theorem is out now, rated 15.

4: DVD /  BluRay: Blue is the Warmest Colour
Director: Abdellatif Kechiche
Cast: Adèle Exarchopoulos
15-year-old Adèle feels like a totally normal teenager, with school, friends, parents and boys taking up most of her time and thoughts. That is until a chance encounter with a beguiling blue-haired girl turns her world upside down, forcing her to question her desires and assert herself as a woman and as an adult.
 
Utterly compelling from start to finish, this is gripping, engrossing cinema in its rawest, purest form.  Winner of the Palme d'Or at Cannes 2013, it has become one of the most talked about films of the year.
Blue is the Warmest Colour is rated 18 and is out on dvd and bluray on Monday.

Samantha Buckley with the book review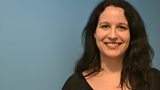 1. The Collected Works of A.J.Fikry by Gabrielle Zevin  
AJ is the owner of a small failing bookshop, his wife has recently died and his life is a mess. Amelia is a book rep with a big heart and unshakable optimism, and Maya is a baby who is abandoned in AJ's shop with nothing but a heartfelt note. 
Published by Little, Brown

 
2. The Black-Eyed Blonde by Benjamin Black
  
Raymond Chandler's iconic private eye 'Phillip Marlowe' returns to the page at the hands of Benjamin Black in a fantastically realised gritty, noir thriller. There are femme fatales, bare knuckle fights and mobsters all shrouded in cigarette smoke and 1950s LA smog!
Published by Macmillan

3. The Book Thief by Markus Zusak 
 
Narrated by Death, this is set in Germany during the Second World War and is a story about a young girl growing up under the Nazi regime. Leisel's first act of book thievery is accidental, but as her love of reading grows, so do the risks she is prepared to take.
Published by Transworld