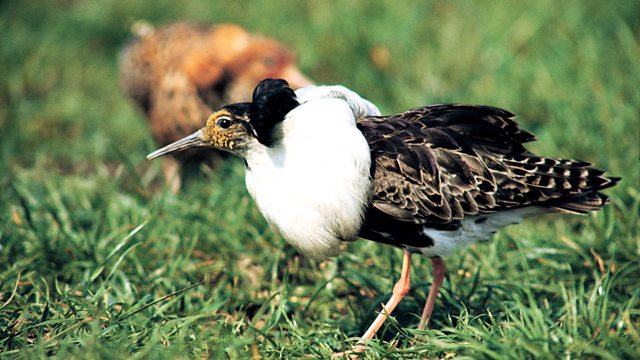 Ruff
Listen in pop-out player
Tweet of the Day is a series of fascinating stories about our British birds inspired by their calls and songs.
Bill Oddie presents the ruff. The glory of the ruff lies in its extravagant courtship displays. For most of the year these waders look similar to our other long-legged water-birds such as redshanks or sandpipers but in the breeding season the males sprout a multi-coloured ruff. The impressive ruffs of feathers come in infinite variety, black, white, ginger, or a mixture of these. The males gather at traditional spring leks with the aim of winning one or more mates.
Last on
Ruff (Philomachus pugnax)
Webpage image courtesy of RSPB (rspb-images.com)
Recording of ruff by Patrik Åberg (Xeno-canto.org)
This programme contains a recording of a ruff, which was recorded by Patrik Åberg and sourced via the website Xento-canto.org.
Reference XC58549 / Original recording accessible at www.xeno-canto.org/58549.