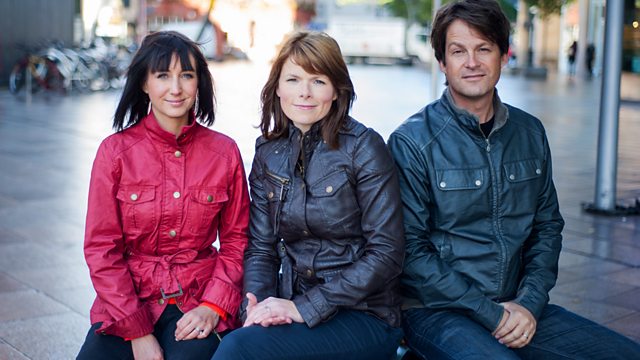 Rhodri and Lucy are in Aberystwyth to investigate whether homeowners affected by recent bad weather might struggle to find affordable insurance. Rachel is finding out why you need to make sure you really know who you're dealing with when it comes to booking cheap flights on the internet. Lucy is looking at how those free offers on the internet might not be the great deal they first appear to be.
Rachel is meeting a fitness enthusiast who won a holiday to a luxury boot camp but ended up shedding hundreds of pounds from her purse not her waist. And Rhodri will be looking at how the size of your luggage could make a big difference to the cost of your summer holidays.
Last on
Storm Insurance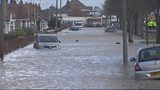 Across Wales there's a big clear-up after the wild winter weather of recent weeks. The insurance bill will run into millions. Once the immediate danger is over, many homeowners will be wondering whether they will be able to get affordable insurance when they come to renew.
To find out, X-Ray are talking to people in communities that were hit by flash flooding two years ago – to find out what their experience of the insurance history has been.
We've met next door neighbours Hefyn Jones and Gareth Davies, in the village of Llanbaddarn fawr, near Aberystwyth.  One of them, Hefyn Jones, saw his premiums go up 44 per cent after he was flooded.  He was also asked to pay £5,000 of any future claim – while his neighbour's excess stayed the same at £75.
Hefyn told X-Ray:" "I talked to my neighbours and none of them had had an increase …I tried six different companies to insure my house and as soon as they heard about the flooding not one of them interested – so I had to accept it.  But a £5,000 excess would have killed me." 
We speak to a pub landlord who has been flooded regularly but he doesn't claim – for fear of losing his insurance altogether. Howard Baker, of the Bridge End Inn in Crickhowell,  tells Lucy: "We've had three floods since Christmas.  If I claimed for all of them I would never get insurance again.  We're better off waiting for the big one …then we'll have to make our claim."
We ask an expert why the insurance industry treats people so differently, and investigate what homeowners can do to reduce their premiums by fitting personal flood defences to their homes.
Identity mix-up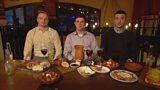 When Alex Hannington booked a flight for himself and three friends to Portugal, he didn't anticipate a mix-up that would end up costing him hundreds of pounds. Alex had only been at his job a couple of weeks when he won a stay at his boss's villa in Faro.
Excited by the prospect of sun, sea and sand, Alex went on the Internet straight away. He searched for Ryanair in the search engine and clicked on the first website that appeared which was eDreams.co.uk. He paid around £650 for himself and his friends to travel to Portugal in April. But when his booking details were emailed through to him he noticed something which concerned him.
While his booking confirmation from eDreams was correct, his Ryanair confirmation told a different story. On his return flight, in place of his name and two of his friends, were three Spanish names that he didn't recognise including one child.
Believing it to be a simple administrative error, Alex called Ryanair but was told that he would have to pay about £270 to change the names- almost half the price of the flights.
Astounded by the response he had received, Alex contacted the X-Ray team.  We spoke to Ryanair which said that it did offer to change the names for a reduced price but the boys didn't take up the offer. It also says that eDreams aren't authorised to sell their flights and using companies like them can lead to problems with customer service.
Unsurprisingly eDreams didn't agree with that. They say they do offer travellers superior choice with competitive prices. They have now agreed change the names on the tickets and they've also offered Alex a voucher for any future bookings.
Five star bootcamp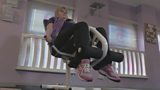 When it comes to losing weight and getting fit...there are no quick fixes...you need hard work and dedication. Of course some of us prefer a little more luxury when working out. A beautiful location, wall to wall sunshine and a team of specialist staff on hand to make those gruelling workouts a little easier. Well that's the kind of experience TV fitness trainer Danni Levy was offering at her Five Star Bootcamp in Marbella in Spain, but that kind of workout doesn't come cheap and guests can expect to fork out thousands of pounds for a week.
So last year when Jackie Mullen from Pontypool spotted a Valentines themed competition online that included a stay at Danni Levy's Five Star Boot camp she didn't hesitate to enter. She was delighted when she found out that she was the lucky winner. In keeping with the competitions Valentine's theme, Jackie and her husband Cliff decided to stay at the five star bootcamp to celebrate their third wedding anniversary in August. But there was one vital element that wasn't included in the prize, and that was transport, and in order to be able to attend the boot camp Jackie and Cliff would have to fork out more than five hundred pounds for flights.
But just weeks after paying for the flights Jackie started to suspect that five star boot camp was running out of steam after spotting some worrying reviews online . Jackie said, "Comments started becoming very negative. People were saying it won't be long now before it's all ended and I began to think Oh My God are things going wrong here? ".
Just days later Five Star Boot camp emailed to say the company was going under and they were cancelling her prize holiday, "I was devastated. I couldn't believe it….we tried to actually sell the flights…No one wanted to pay the £110 transfer fee… so we were kind of stuck with these flights that we'd paid for".
So who was responsible for saving Jackie's prize holiday and the five hundred pounds she'd paid out for flights?
Well 5 Star Bootcamp said they couldn't pay any money to Jackie as steps were being taken to liquidate the business. With Danni Levy's company owing thousands of pounds to debtors it seemed Jackie had no chance of getting any money back.  We've written to Dani Levy and she says she had offered the couple money for the flights, but not if Jackie spoke out about her experiences.
We've also spoken with Rebecca Garrett Media - who organised the competition. They say there are victims of Dani Levy's company. Since X-Ray got involved they have offered Jackie and Cliff a stay at another boot camp which is based in Northumberland. She's also offering to refund the £500 the couple paid for the fights to Spain.
Credits
| Role | Contributor |
| --- | --- |
| Presenter | Lucy Owen |
| Presenter | Rhodri Owen |
| Reporter | Rachel Treadaway-Williams |
| Series Producer | Nick Skinner |