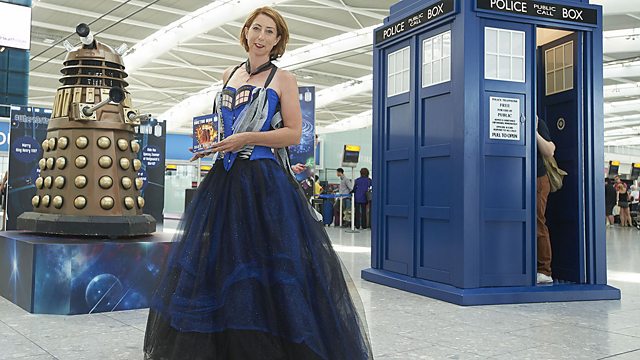 11/03/2014
Prestwick's biggest export, author Jenny Colgan, joins Fred ahead of the Romantic Novel of the Year Awards.
Were you inspired by Ricky the poodle at Crufts - if so listen in to find out how (and where) to show your dog.
The Women in Science Festival is happening in Dundee this month; if you want to inspire a young women in your life to consider a career in science make sure you tune in.
Chef Jak O'Donnell introduces another fantastic tip to help you in your kitchen, this week she's scrambling eggs.
Are you the kind of person that thinks a cup of tea makes everything better? Fred finds out about a tea for every occasion - possibly even weight loss.
The world wide web was dismissed 25 years ago as 'vague but exciting' - if your ideas feel the same fear not - we'll be seeking focus.
Last on
Focus Tips from Averil Leimon
Don't even think about multi tasking. Instead try switch-tasking - concentrate fully on the one thing for a period of time and then concentrate on the other.
Learn to deal with distractions - the obvious external ones are people interrupting - tell them you need 30 minutes, most things can wait that long.
Teach yourself focus - when you need to concentrate, check all your messages (email etc) and then switch everything off for 10 minutes while you focus. Each day, do a few minutes more without all the distraction. Make set times when you gorge on all social media, then get back to focussing.
If something's worth doing, it is worth doing any way you can. It is easy to scare yourself out of focussing by setting the standard too high. Stop trying to do a perfect job. Settle down and have a go at 'doing it badly'.
Focus on your dreams We often maintain we can't focus on our important aspirations because we just don't have the time. You never will, so don't put it off.  Just take 15 minutes at a time to have a go at doing something in bite sized chunks.
Courtesy of Leadership Psychologist Averil Leimon, Director of White Water Group
Jak O'Donnell's Scrambled Eggs
Scrambled eggs, with no bowls, no whisk and no seasoning.
Per person:
2/3 good eggs
1 tsp butter
1 tbsp milk or cream or creme fraiche
Salt & pepper to taste
1. Use a good heavy based pan or non-stick sauté pan if you have one.
2. Crack eggs into cold pan add butter but no seasoning.
3. Stir quickly with a spatula over a very gentle heat.
4. If you think pan is getting warm pull it off to the side keep stirring.
5. Get the pan back on the heat the whole process will be 2-3 minutes max for velvety eggs.
6. Just before you think they are ready take off the heat, season as you wish and add 1 tbsp of your choice milk/cream etc.
7. Pour onto toast or mushrooms.