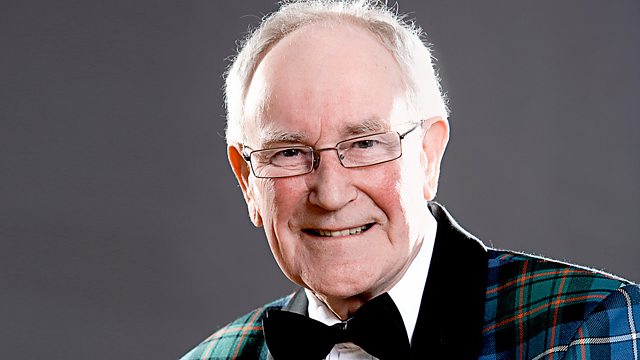 01/03/2014
Join Robbie Shepherd for a show packed with the very best of traditional music and song. Making a welcome return to the show is The Clappy Doo Ceilidh Band, with a great lively session. Robbie's guest show cases A Scottish Vernacular Discography. And we share the latest sounds from CD.
email: takethefloor@bb.co.uk.
Last on
Today's Book Feature
A Scottish Vernacular Discography 1888 – 1960
By Bill Dean Myatt
Publisher – City of London Phonograph & Gramophone Society Hailsham England
The Clappy Doo Ceilidh Band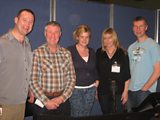 The fantastic Clappy Doo Ceilidh Band with Jennifer Cruickshank.
Playlist
TITLE: Kate Dalrymple
ARTIST: Clappy Doo Ceilidh Band
BBC Take The Floor Recording
TITLE: Polka
a) Thingummyjig Polka [J Johnstone]
ARTIST: Clappy Doo Ceilidh Band
BBC Take The Floor Recording
TITLE: Gay Gordon's
a) Tom McHale's March [Trad]
b) Iain MacPhails Compliments to the late Chrissie Letham [I MacPhail]
ARTIST: Clappy Doo Ceilidh Band
BBC Take The Floor Recording
TITLE: Eric's Reel
a) Original [S Lynn]
b) The Down Express [Trad]
c) The Dean Brae [J Johnstone]
d) Loch Torridon [Trad]
e) The Thurso Wedding [N Grant]
f) Queens Bridge [Trad]
g) The Market Chorus [Trad]
h) Original [S Lynn]
ARTIST: Clappy Doo Ceilidh Band
BBC Take The Floor Recording
TITLE: St Bernards Waltz
a) Linda's Waltz [P Farnan]
ARTIST: Clappy Doo Ceilidh Band
BBC Take The Floor Recording
TITLE:  The Water of Leith
a) Glasgow 2014 Commonwealth Games [G Munro]
b) Miss Ann Rutherford [W Rutherford]
c) Mrs Rae Wallace [J Johnstone]
d) Calum's Road [D Shaw]
ARTIST: Clappy Doo Ceilidh Band
BBC Take The Floor Recording
TITLE: Eva Three-Step
a) The McNeils of Ugadal [J MacKenzie]
b) Lord MacPherson of Drumochter [A Graham]
ARTIST: Clappy Doo Ceilidh Band
BBC Take The Floor Recording
TITLE: The Ravelston Rant
a) Forfar Hunt [Trad]
b) Ness House [Trad]
c) Mull and Back [G Munro]
d) Mr James Trotter [Trad]
ARTIST: Clappy Doo Ceilidh Band
BBC Take The Floor Recording
TITLE: The Royal Edinburgh
a) Original [I MacPhail]
b) Jessie's Whip [C Brown]
c) Warwick's Land [A Rankin]
d) Sandy Gauld's Jig [G Mitchel]
e) Jim Andersons Delight [R Cooper]
f) A.M. Shinnie [A Fitchet]
g) The Caerlaverock Jig [T Ford]
h) Original [I MacPhail]
ARTIST: Clappy Doo Ceilidh Band
BBC Take The Floor Recording
TITLE: Gaelic Waltzes
a) The Girl of my Dreams [Trad]
b) Mistress Janet MacMillan [N MacMillan]
c) Isle of Mull [Trad]
d) Alex Grossart of Daldorch [S Flockhart]
ARTIST: Clappy Doo Ceilidh Band
BBC Take The Floor Recording
TITLE: Canadian Barn Dance
a) Mrs L H MacDonald of Dunach [W Lawrie]
b) Donald MacLeans Farewell to Oban [A MacNeil]
ARTIST: Clappy Doo Ceilidh Band
BBC Take The Floor Recording
TITLE: Band Leaders Choice
a) Triste Sourire [Frans van Cappelle]
ARTIST: Clappy Doo Ceilidh Band
BBC Take The Floor Recording
TITLE:  Britannia Two-Step
a) My Big Kilmarnock Bunnet [Trad]
b) Bonnie Wee Jeanie McColl [Trad]
c) Hundred Pipers
d) It's Nice to Get up in the Morning [Lauder]
e) The Reason I Noo Wear The Kilt [Lauder]
f) Saftest 'O' the Family [Lauder]
ARTIST: Clappy Doo Ceilidh Band
BBC Take The Floor Recording                                                                  
TITLE: Nickie Tams
a) Alistair Wood's Compliments to Stanley Wilkie [A Wood]
b) Callope House [D Richardson]
c) The Famous Baranan [G Duncan]
d) Manus Lunny's Terricota Power Pop [P Cunningham]
ARTIST: Clappy Doo Ceilidh Band
BBC Take The Floor Recording
TITLE: Drumderg / The Jagged
TRK: 5
ARTIST: Alan Reid (Banjo) & Donal Lunny (Bouzouki)
CD: The Leitrim Equation 3
LABEL/CAT NR: www.leitimarts.ie
TITLE: The Dark Island
TRK: 9
ARTIST: Calum Kennedy
CD: Legends of Scotland
LABEL/CAT NR:  KRL – CDELM 4133
TITLE: Set of Jigs - 6 x 32
The Atholl Highlanders / The Rakes of Kildare / Teviot Brig
TRK: 9
ARTIST: David South and his Scottish Dance Band
CD: Another Scottish Ramble
LABEL/CAT NR: DSMCD 005
TITLE: Tha Bo Dhubh Agam  - I Have a Black Cow  V/O 53"
TRK: 10
ARTIST: Marit & Rona
CD: Turas
LABEL/CAT NR: Watercolour Music – WCMCD051
TITLE: Shetland Reels
Chadwick's Bog / The Anvil / Miss Susan Cooper / Hurlock's Reel
TRK: 1
ARTIST:  Donald Macleod Scottish Dance Band
CD: The Top of Ben Lomond
TITLE: The Barnyards of Delgaty
ARTIST:  Willie Kemp
Archive Recording
TITLE: Leaving Barra
ARTIST:  Archie Grant
Archive Recording
TITLE: Dashing White Sergeant
ARTIST: The Cameron Men
Archive Recording
TITLE: Jig into Slide
Dalaigh's / Lep the Table
TRK: 15
ARTIST: John Carty (fiddle) Seamus Begley (accordion) & Donal Lunny (Bouzouki)
CD: The Leitrim Equation 3
LABEL/CAT NR:  www.leitimarts.ie
TITLE: Always Welcome / Jackie Coleman's Reel / Sheehan's Reel / A Trip to Windsor
TRK: S 2 B 8
ARTIST: The Glasgow Caledonian Strathspey and Reel Society
LP: In Concert
LABEL/CAT NR: Lismor – LILP 5137
Going to a ceilidh? Learn the steps