Vikings, Seafaring and Navigation
Matthew Sweet visits the British Museum's Vikings exhibition with the curator Gareth Williams and Radio 3 New Generation Thinker Dr Eleanor Rosamund Barraclough from Durham University.
Vikings Life and Legend runs from March 6th - June 22nd
Lincoln Paine discusses his history of navigation and seafaring 'Sea and Civilization'.
Captain M.K.Barritt, author of An Artist in the Channel Fleet, looks at the Napoleonic War artist J.T. Serres
Producer: Jacqueline Smith.
Last on
Vikings: life and legend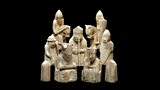 Vikings: life and legend is in the The Sainsbury Exhibitions Gallery at the British Museum from 6 March to 22 June 2014. 
Gallery: Images from the Vikings: life and legend exhibition 
Image right: Lewis Chessmen 1150-1145. © The Trustees of the British Museum. 
Readings in the programme: 
Poem by Þjóðólfr Arnórsson, preserved in The Saga of Harald Hardrada (Haralds saga harðráða)  
Anglo-Saxon Chronicle (D Manuscript) entry from 793 AD: The Vikings attack the monastery on Lindisfarne.
John Thomas Serres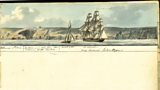 Credits
| Role | Contributor |
| --- | --- |
| Presenter | Matthew Sweet |
| Producer | Jacqueline Smith |
| Interviewed Guest | Gareth Williams |
| Interviewed Guest | Eleanor Barraclough |
| Interviewed Guest | Lincoln Paine |
| Interviewed Guest | MK Barritt |