Former Spice Girl Mel C and aviator Tracey Curtis Taylor
Richard Coles and Anita Anand meet former Spice Girl, Mel C who talks about two decades in the spotlight, on being a Mum to five-year-old Scarlet and how she's finally learned to chill out. JP Devlin talks to TV presenter and naturalist Chris Packham about collecting chairs, aviator Tracey Curtis Taylor on her historic flight from Capetown to Goodwood in an open topped plane, performer Patti Boulaye shares her Inheritance Tracks, Zhenia Klochko talks about the family she left behind in the Ukraine, Bill Spence, a grandfather from North Yorkshire writes romantic novels, under the pseudonym Jessica Blair. Now 90 years old, he's been shortlisted for the prestigious award - the Romantic Novel of the Year 2014, three listeners say 'thank you' for a past kindness large or small and Noel Gaughan on being a driving instructor to the stars.
Produced by Maire Devine.
Last on
Main Guest :: Melanie Chisholm
Mel C talks about two decades of performing, being a Spice Girl and how she learnt to finally chill out.  
Travel :: Tracey Curtis-Taylor
Aviator and adventurer Tracey talks about flying in a classic 1940s open cockpit Boeing Stearman biplane from Cape Town to Goodwood, West Sussex, arriving on New Year's Eve in appalling conditions.
Romantic Novelist :: Bill Spence (aka Jessica Blair)
A former war hero has been unmasked as the author behind a series of romance novels. Bill Spence, a grandfather from, North Yorkshire has written romantic novels, under the pseudonym Jessica Blair.  Now 90 years old, he's been shortlisted for the prestigious award - the Romantic Novel of the Year 2014.
Secret Life :: Chris Packham
Naturalist Chris Packham talks to JP Devlin about his collection of modern designer chairs.
Inheritance Tracks :: Patti Boulaye
Patti is a singer, actor, painter, choreographer, producer, wife and a proud mother of two children.  She chooses Nobody Knows The Trouble I've Seen by Louis Armstrong and Earth Song by Michael Jackson.
Celebrity Driving Instructor :: Noel Gaughan
Noel has taught singer Adele, actors James McAvoy and Rhys Ifans, model and daughter of Bob Pixie Geldof, a couple of members of boy band One Direction, model Lara Stone, MP David Lammy, actresses Gemma Arterton, Hayley Atwell and Romola Garai and singer Mika, among others.
Thank yous :: Barbara, Leslie and Maggie
Listeners Barbara, Leslie and Maggie express their gratitude for good deeds done.
Ukraine :: Zhenia Klochko
Zhenia Klochko is a young Ukranian living and working in London.  In 2004/5 she was on the front line in Kiev during the Orange Revolution. During the recent upheavals  she wanted to return and join the protestors but as she has a baby daughter, felt it was too dangerous. She talks to us about seeing the  revolution from  a distance,  about her sister in Kiev and Mother in the centre of Ukraine and about how she feels as events rapidly unfold in her homeland.
Studio Guests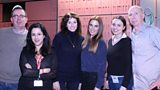 Richard, Anita, Tracey, Mel C, Zhenia, Noel.
Credits
| Role | Contributor |
| --- | --- |
| Presenter | Richard Coles |
| Presenter | Anita Anand |
| Interviewed Guest | Melanie Chisholm |
| Interviewed Guest | JP Devlin |
| Interviewed Guest | Chris Packham |
| Interviewed Guest | Tracey Curtis Taylor |
| Interviewed Guest | Patti Boulaye |
| Interviewed Guest | Zhenia Klochko |
| Interviewed Guest | Bill Spence |
| Interviewed Guest | Noel Gaughan |
| Producer | Maire Devine |