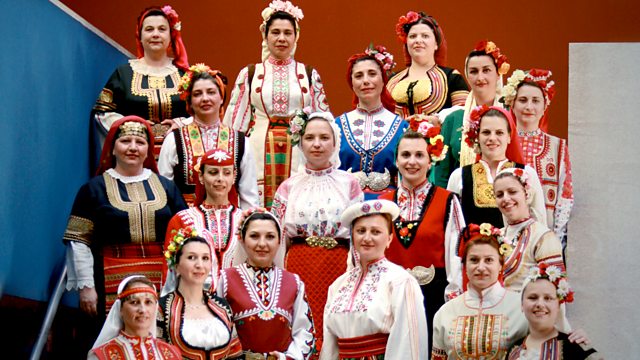 Bulgarian Voices Angelite
Lopa Kothari with tracks from across the globe, a studio session with Bulgarian Voices Angelite, and part 5 of Commonwealth Connections with music from Namibia and Tanzania.
COMMONWEALTH CONNECTIONS
This landmark 26-part weekly series leading up to the Commonwealth Games in July features music from each of the 53 member states, reflecting the range of music and culture across the whole Commonwealth.
Music feature from Namibia:
In the Namibian bush, close to the Botswana border, two San families share their musical traditions. As one of southern Africa's oldest peoples, the San are proud of a way of life that is dying out. We hear berry-picking work songs and healing dances that have been performed for centuries. In Namibia's capital Windhoek, singer-songwriter Elemotho is also preserving Namibian traditions through his music. He explains how his childhood in the Kalahari Desert has influenced his songs.
Heritage track from Tanzania:
Suleman Nyambui Mujaya struck silver for Tanzania in the 5000 metres at the Moscow Olympics in 1980. He stayed in sport and is now General Secretary of Athletics Tanzania.
His chosen artist is Best Nasso, and the track is Narudi Kijijini, a warning for young Africans leaving their villages that life in the big city might not be all it's cracked up to be.
Session with Bulgarian Voices Angelite:
Formed from the ashes of the old State Television Choir by the State Choir's manager Tanja Andreeva, The Bulgarian Voices Angelite have become one of the most renowned vocal ensembles from the Balkans. The choir comprises 19 female voices, under the leadership of Georgy Petkov, and creates a unique blend of classical and folk traditions and an enchanting array of vocal sounds. Their new album 'Angelite' is out now on German label Jaro.
Last on