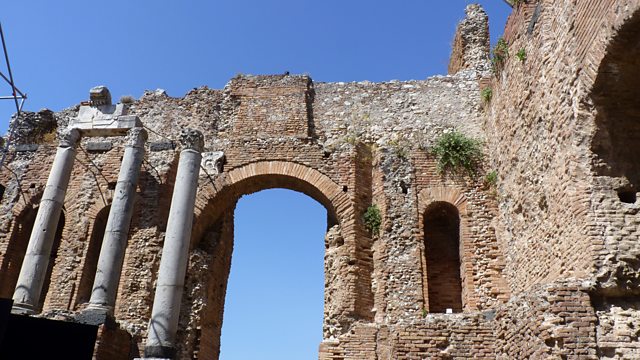 Ruins
The actors Kenneth Cranham and Joanna David contemplate ruins in texts from anonymous Anglo-Saxon verse, telling of the ruined city of Aquae Sulis, which is most probably Bath, to the ruins of Empire, as vividly portrayed by Derek Walcott. They also reflect on the ruins of ancient lands like Egypt, romantic sham ruins, human ruins and ruined minds. This edition of Words and Music includes texts by Walter de la Mare to Philip Roth and Wordsworth to Rilke, and music reconstructed from ancient Rome, Rachmaninov and Kurtag.
Last on
Producer's Note
The world is full of ruins that give us a tantalizing glimpse into past civilisations and cultures, and of what might once have been.  There are ruined abbeys, castles and manors, abandoned temples, curious edifices like Stonehenge, and the statue to Ozymandias that opens this edition of Words and Music.  As civilisations slowly forge onward, the world makes space for more and more ruins. 
Ruins can be at once beguiling and beautiful.  They also create a psychological space for contemplation and recollection.  I wanted to evoke the sound world of ruins, which I have done in a number of ways.  There are pieces of music entitled 'fragment', implicitly part of something bigger that we will never hear, and there are pieces like Janacek's 'recollection' for piano, Kurtag's 'Aus der Ferne III' (From the Distance III) and the ethereal slow movement of Beethoven's 'Ghost' trio.  As ruins merge into the natural world, making a home for wildlife, I have included some music about birds, and I have also recreated the windy soundscape that many ruins inhabit by mixing desert winds with Maoli and using the wind and vocal music of Nordgard, Rautavaara, Stockhausen and his disciple Michael Vetter.
This programme begins with Shelley's poem 'Ozymandias', which tells the story of a statue from an antique land that is standing half sunk in the desert.  Winds from the Arizonian and Oman deserts swirl around the haunting sound of a pan flute, which is Walter Maioli's reconstruction of the sounds known to ancient Romans.  These sounds are combined to create a sense of the ancient world, which merge into the serene rippling of a Rachmaninov piano prelude, mirroring the words of James Leigh Hunt's poem, 'The Nile'. 
One of the earliest known Anglo-Saxon poems is entitled, 'The Ruin'.  It is the description of a deserted Roman city, most probably Aquae Sulis (the roman Bath), and was discovered on two leaves badly scarred by fire.  I wanted to create an audio ruin, using fragments from this poem which, because of the scarred leaves, is already a fragment, and these are set to Kurtag's string quartet, 'Aus der Ferne III', like an echo from the past. 
In complete contrast to the ancient world are those sham ruins, or artificial ruins, loved in the 18th century.  Stravinsky's neo-classicism in 'Dumbarton Oaks', as a pastiche of older music, perfectly suits Geoffrey Grigson's description of these shams.
The scene of Thomas Hardy's 'Tess of the d'Urbevilles', in which Angel and Tess stumble across Stonehenge, is accompanied by the eerie sound of Norgard's 'Roads to Ixtlan' for saxophone quartet and then Stockhausen's Stimmung, a chant performed in a circle to represent the iconic stone circle.
Amy Lowell's 'The Dusty Hour-Glass' and Charles Mair's 'Ruins' are two beautiful poems that depict the ruination of man's mind, one set against an overgrown garden and the other in the wild forest.  They lead into Beethoven's 'Ghost' trio, which acts as a bridge to two texts about human ruins: John Clare's 'Temple of Minerva' and a passage from Philip Roth's 'Everyman'.
The programme then returns to the theme of ancient ruins with Yeats' poem, 'Sailing to Byzantium', accompanied first by a traditional Armenian song of exile for two hauntingly beautiful duduks, and then Rautavaara's 'Dances with the Winds'.  Elliott Carter's 1994 'Fragment' for string quartet provides a dark and oppressive atmosphere for Derek Walcott's poem about the demise of the British Empire, 'Ruins of a Great House'. 
Romantic visions of ruins, as depicted by Rossetti and De la Mare, end the programme and are connected by Janacek's 'A Recollection'.
Elizabeth Arno (producer)