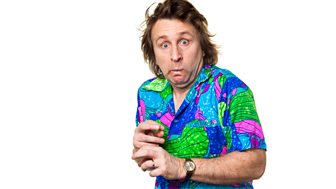 Thanks a Lot, Milton Jones!
Comedy series. Milton has set himself up as a man who can help anyone anywhere - whether they need it or not
On demand
This programme is not currently available on BBC iPlayer Radio
On radio
There are no upcoming broadcasts of this programme
Last on
Wed 2 Apr 2014 22:00
BBC Radio 4 Extra
About the show
Mention Milton Jones to most people and the first thing they think is 'Help!
King of the one-liners Milton Jones returns BBC to Radio 4 for an amazing 10th series in a new format where he has decided to set himself up as a man who can help anyone anywhere - whether they need it or not. Because, in his own words - "No problem too problemy".
But each week, Milton, and his trusty assistant Anton (played by Milton regular, Tom Goodman-Hill) set out to help people and soon find they're embroiled in a new adventure. So when you're close to the edge, then Milton can give you a push...
"Milton Jones is one of Britain's best gagsmiths with a flair for creating daft yet perfect one-liners" – The Guardian.
"King of the surreal one-liners" - The Times
"If you haven't caught up with Jones yet – do so!" – The Daily Mail
Written by Milton with James Cary ("Bluestone 42", "Miranda"), and Dan Evans (who co-wrote Milton's Channel 4 show "House Of Rooms") the man they call "Britain's funniest Milton," returns to the radio with a fully-working cast and a shipload of new jokes.
The cast includes regulars Tom Goodman-Hill ( "Spamalot", "Mr. Selfridge"), Dan Tetsell ("Newsjack") and Ben Willbond ("Horrible Histories") - and features the one and only Josie Lawrence working with Milton for the first time!
Produced & directed by David Tyler
A Pozzitive production for the BBC
www.pozzitive.co.uk
Thanks A Lot, Milton Jones!
is a Pozzitive production, produced by David Tyler. His radio credits include
Armando Iannucci's Charm Offensive
,
Cabin Pressure
,
Bigipedia
,
Another Case Of Milton Jones
,
Jeremy Hardy Speaks To The Nation
,
The Brig Society
,  
Giles Wemmbley Hogg Goes Off
,
The 99p Challenge
,
The Castle, The 3rd Degree
and even, going back a bit,
Radio Active
. His TV credits include
Paul Merton – The Series
,
Spitting Image
,
Absolutely
,
The Paul & Pauline Calf Video Diaries
,
Coogan's Run
,
The Tony Ferrino Phenomenon
and exec producing Victoria Wood's