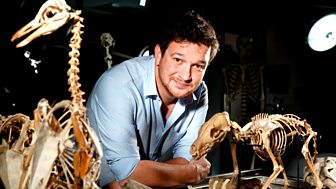 Secrets of Bones
Evolutionary biologist and master skeleton builder Ben Garrod presents a six-part series looking at how bones have enabled vertebrates to colonise and dominate practically every habitat on Earth.
On TV
There are no upcoming broadcasts of this programme
Last on
Thu 21 May 2015 02:00
BBC Four
Ben Garrod discusses a few gruesome bony adaptations that didn't make it into the series.

Do you know what a baculum is? Test your knowledge with our bona fide quiz.

"One of the challenges for this series was baking an accurate model of Ben's skull"

Watch more clips from this BBC Four season examining bodies like never before.