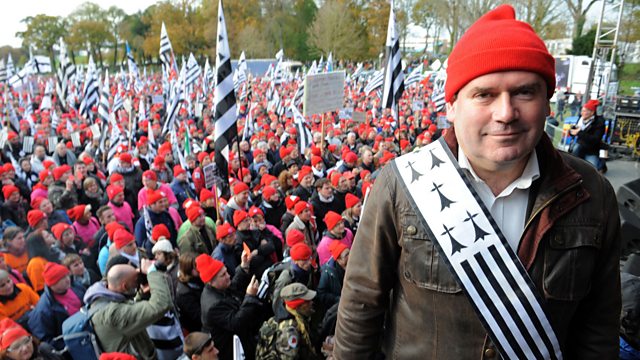 France: Christian Troadec
Listen in pop-out player
Lucy Ash profiles five people who are making waves across Europe, with individual stories which expose the continent's cultural, political and economic fault lines.
Christian Troadec is the gruff Breton mayor who has struck a blow for independence from a revenue-hungry French state. Carhaix, his town of 15,000 people, has been called ground zero in the revolt of the red caps - named after Breton bonnets rouges who led a protest in the 17th century. In those days the revolt was against the levies imposed by Louis XIV, the Sun King, to finance his war against the Dutch. Nearly 340 years later, people in Brittany have donned their bonnets rouges once more to fight taxes imposed, not by a king, but by President Francois Hollande and his socialist government. They joke it is the new 'guerre de Hollande' and the red caps include farmers, fishermen, traders, shopkeepers and workers. The last straw for many was the hated "ecotax" on lorries. Trucking is essential for the transport of agricultural products in this agricultural region. The government hopes it has bought off dissent with a new Chinese-owned dairy factory but Troadec says the bonnet rouges will not be so easily placated. Lucy Ash visits the mayor in his stronghold to hear about his next move - a congress in March designed to air Brittany's many grievances with Paris.
Producer: Mark Savage.
Last on