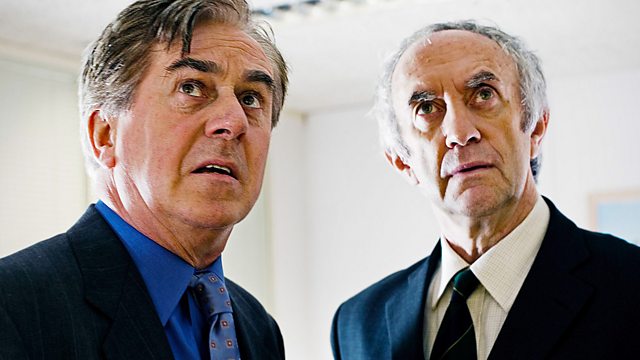 In the new series of Nigel William's hit comedy, Peter's former partner Kate moves in. Sam, who thought he was gay, finds himself deeply attracted to her. There will be fireworks!
Original music for the film by Stephen Benham
Director ..... Peter Kavanagh
Starring Jonathan Pryce, Nicholas Le Prevost and Kate Fahy, Nigel Williams' long running comedy-drama series HR has developed something a cult following. And this latest promises to be just as funny and outrageous, but even more apposite than the previous four.
As well as the usual humour in spade-loads, this series deals with important issues, among them the complications round bi-sexuality, and gay marriage.
Sam's house is home not only to Peter (Pryce) and himself (Le Prevost), but also to Peter's ex-wife Kate (Fahy) and soon Sam's new boyfriend Ed (David Haig). The series will chart Sam's initial conviction that he is in love with Kate, ergo not gay. Then him accepting that he is indeed gay, but still - at age 65 - a virgin, and in need of a partner in the autumn of his life. He will check out gay websites for 'the right guy for the right guy', with hilarious - and almost disastrous - consequences. Then an electricity-meter reader (Ed - Haig) rings the bell on a routine call, and Sam's life suddenly changes.
In the penultimate episode Sam will propose to Ed, and many of the emotional issues round gay marriage and commitment will be explored.
At the same time commitment-phobe Peter, now sharing (and sparring!) with ex-wife Kate has to confront the possibility that he may still have feelings for her. Again that story-line will run right until the last episode, with a dramatic twist. (NB: Kate Fahy and Jonathan Pryce are married in real life)
But as the series opens:
Episode 1: Domestic life is complicated as Sam, who thought he was gay, wakes one morning to realise that he has fallen in love with Kate, former partner of Peter, who is Sam's best friend and his infuriatingly abrasive, rascally, trouble-making lodger. Who can guess how it will all turn out, particularly when Peter then insists on giving Sam lessons in courtship: 'Women doubt themselves' Peter asserts vigorously, 'they all lack confidence. As men, it is our duty to take advantage of that ... thereby to maximise their dependence on us'.
Will Sam follow unreconstructed Peter's advice?
Listen out to this new run of topping comedy dramas.
Last on
More episodes
Previous
You are at the first episode
Recording this Series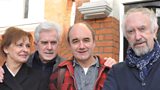 Jonathan Pryce, Kate Fahy and Nicholas Le Prevost
Credits
| Role | Contributor |
| --- | --- |
| Peter | Jonathan Pryce |
| Sam | Nicholas Le Prevost |
| Kate | Kate Fahy |
| Director | Peter Kavanagh |
| Writer | Nigel Williams |